"Excellence is a journey, where the weak lurk in shadows. Yet my blade burns stronger!

One by one, I smother death! I reap their flames! Let them fear me. In the midst of war, I breathe fire."

The Zhanhu is a playable hero class in For Honor.
Overview
Always highly respected and powerful, the Zhanhu were once the right hands of powerful rulers. As key representatives of the Wu Lin Emperors, the Zhanhu would consider their lives forfeit, subservient to the will of their leaders. They were duty-bound to execute the Emperors' decrees at any cost. All other considerations were secondary.
The Zhanhu of today are the true masters of artillery. Only a few can learn how to tame the fire, wield the deadly changdao and achieve the title of Zhanhu. One should fear these unpredictable warriors, as they have devised many ways to slice and burn their enemies to the ground.
Armor
As protectors of powerful rulers, the Zhanhu do not go unnoticed on the battlefield. Wearing silk garments with embroidered patterns, they do not need heavy armor to protect themselves. These skilled swordmasters prefer light cuirasses or lamellar armors that do not hinder their mobility.
Weapon
Changdao - A single-bladed Chinese greatsword that requires great skill and patience to wield, but rewards prowess with devastating strikes.
Trivia
On the Chinese version of the game, the name of this Hero is written as "斩虎" (pinyin: zhǎn hǔ), which literary translates to "Slaying tiger" or "Cutting tiger."[1] This name could be a reference to the "斬馬刀" (pinyin: zhǎnmǎdāo; lit. "horse chopping saber"), a type of two handed anti-cavalry sword that Zhanhu's weapon resembles.
The Zhanhu are very likely based off of the Jinyiwei (锦衣卫; lit. "brocade-clad guard").

The Jinyiwei were the imperial secret police (and later, a military body) that served the emperors of the Ming dynasty in China. As a secret police, they had the authority to overrule judicial proceedings in prosecutions with full control over the arrest, interrogation and punishment of an individual, including other nobles and imperial family members. They were also tasked with collecting military intelligence and partaking in battle planning.
Their name comes from how these guards donned a distinctively patterned (typically golden-yellow) uniform.
The Jinyiwei were hand picked from the military or brought up as children, receiving special martial arts training on top of wielding swords made of a special type of steel.

The hat the Zhanhu wears in their default outfit is called a Futou (襆頭), also known as the wushamao (烏紗帽). Normal citizens were not allowed to wear it unless attending a wedding or an event involving any noble or imperial family member.

In modern China, the wushamao is commonly used as a metaphor for officials and government posts.

The term for the Zhanhu's sword, Changdao (長刀; pinyin: chángdāo; lit. ''long sword'') was often used as a general term for two handed swords in China. In recent discussions, the term miaodao (苗刀; pinyin: miáodāo; lit. "sprout sword") is sometimes used to describe similar swords.
In the Chinese localization of the game, Fu Huo, a notable Zhanhu, is called "符火"(pinyin: fú huǒ), which literary translates to "Rune Fire", which fits her background.

This name may be a reference to Fu Hao, or Lady Hao. She was one of the many wives of King Wu Ding of the Shang dynasty and also served as a military general and high priestess.

The Zhanhu is the first Hybrid Hero to not have their sex locked. Prior to them, all Hybrids had locked sexes.

Upon introduction, in-game displays stated that he had the Vanguard Renown Gain modifier, although the Zhanhu was correctly affected by the Hybrid modifiers. This has since been fixed.

The Zhanhu is the only hero in Year of the Harbinger that is not a Heavy-class. This debunks the theory that all new Heroes of Year of the Harbinger would be Heavy Heroes.
Though the official website says the Zhanhu do not wear heavy armor as to not restrict mobility, realistically heavy armor does not significantly affect the wearer's mobility as they are usually made to restrict as little mobility while also providing as much protection. The idea that heavy armor equates to lack of mobility is a myth instigated by pop culture.
The execution "Xie Feng" is taken from the alternate name of the dragon deity, "Fei Lian" (飛廉), who is known for messing with people by using a bag of wind that he carries around.
Quotes
For the Subduing Counterblow line, the phrase means "use all your strength" when literally translated. While it can be used as an encouragement, in this context it is mocking the opponent by saying that more was expected, beckoning the opponent to strike harder (if they can).
The Light Finisher line is a Chinese figure of speech. Literally translated, it means "my sword has no eyes." Figuratively, it means their sword does not discriminate, thus not showing any mercy.
The Heavy Finisher line is a two-part statement. The first part is the figure of speech mentioned above for Light Finishers. The second is much more straightforward as Zhanhu simply exclaims for the opponent to die by their sword.
The Fiery Tusk line literally translates to "central" or "middle." As a spoken line, it refers to a hit that is on the mark.
Zhanhu is the first Hero to feature responsive dialogue, in the form of lines delivered when locked onto an enemy and having been idle for too long.
Quotes
Chinese: "接招吧" (Jiē zhāo ba) - English: "Take this!"

Stinging Maneuver or Violent Maneuver (Light Dodge Attacks)

Chinese: "你死定了!" (Nǐ sǐ dìng le) - English: "You're dead!"

Torturing Maneuver or Brisk Maneuver (Heavy Dodge Attacks

Chinese: "刀剑无眼" (Dāo jiàn wú yǎn) - English: "I'll show you no mercy!"
Chinese: "刀剑无眼, 受死吧" (Dāo jiàn wú yǎn, Shòu sǐ ba) - English: "I'll show you no mercy, so die!"
Chinese: "拼尽全力吧" (Pīn jìn quán lì ba) - English: "Try harder!"
Chinese: "中" (Zhòng) - English: "Direct hit!"
Chinese: "火攻" (Huǒ gōng) - English: "Fire attack!"
Chinese: "凤凰烈焰" (Fèng huáng liè yàn) - English: "Phoenix Flame!"
Chinese: "别犹豫了" (Bié yóu yù le) - English: "Don't hesitate!"
Chinese: "别磨叽了" (Bié mó jī le) - English: "Stop dawdling!"
Chinese: "来打我呀" (Lái dǎ wǒ ya) - English: "Come hit me!"

Male Zhanhu, Idle while in-lock

Chinese: "来打我啊" (Lái dǎ wǒ a) - English: "Come hit me, I dare you!"

Female Zhanhu, Idle while in-lock

Chinese: "别让我等太久" (Bié ràng wǒ děng tài jiǔ) - English: "Don't make me wait too long!"
Chinese: "你想太多了" (Nǐ xiǎng tài duō le) - English: "You think too much!"
References
Fighting Style
The Zhanhu are dodge attack experts who use their mobility and limitless chains to defeat any foe. Strong and agile, they are masters of the long Changdao. Also as masters of artillery, they have devised various feats to burn the enemy and wreck havoc on the battlefield.
Difficulty: Medium
Mix-up Specialist
Dodge-Attack Specialist
Special Capabilities
Recovery Cancels leading in-and-out of powerful Dodge Attacks and Zone results in potentially infinite chain of mix-ups
Finishers are Unblockable; Dodge Attacks are also Unblockable upon a successful Superior Block Dodge
Quick, Undodgeable Zone that hits in a 360° area around Zhanhu, which can chain with other attacks through Recovery Cancels
Unique fiery Feats that interact with the Burning effect
Feats
Tier
1st
2nd
3rd
1
Fiery Tusk

Throws a projectile dealing low damage. If the target was already burning, it explodes for additional damage.

Fast Recovery

Passive | Stamina regenerates faster.

Unlocked at level 1

Bounty Hunter

Passive | Gain Health & Stamina when you kill another hero

2
Qilin Ruse

Set a gunpowder trap that explodes and burns targets within its radius.

Thick Skin

Passive | Gain moderate Damage reduction. (Approx. 25% damage reduction)

Winner's Advantage


Passive | Gain a temporary buff after a successful attack.

3
Fiery Breath

Passive | All your attacks and feats deal more damage against burning targets.

Long Bow

Fire a long bow for moderate damage. (50 dmg)

Nukekubi

Gain Stamina on successful attacks

Unlocked at level 9

4
Scorching Deluge

Launch an attack that scorches the ground and sets fires to enemies around you (if they're outside).

Regenerate

Passive | Regenerate your Health when out of combat

Unlocked at level 19

Last Laugh

Passive | Drop a high Damage grenade when you die.
Moveset
General
Renown: Hybrid - Renown is balanced across activities.
Revenge Mode - Boosts Damage and Health. All Attacks are Uninterruptible. Parry and Throws knock enemies down. Attacks are Auto-Parried on activation.
Defense: Static - Your Guard Stance remains active in the direction you designate. Unlike most other Static Guard Heroes, Zhanhu also has Superior Block Dodges.
Hero Specific
Improved Stamina Management - Zhanhu has 8% bonus stamina regeneration (32.5 stam/sec vs 30 stam/sec).
Unblockable Finishers - Your Finishers are Unblockable.
Recovery Cancel into Dodge - All Attacks can have their Recovery Canceled with a Dodge or a Maneuver.

Recovery Cancel into Absolute Amplitude - All Attacks except for Finishers and Amsolute Amplitude can have their Recovery Canceled with Absolute Amplitude.

Torturing Maneuver Cancel - Feint Torturing Maneuver during its Start Up with B (XB1), ◯ (PS4) or E (PC).
Undodgeable Amplitude - Absolute Amplitude is Undodgeable.
Chain Openers - All Dodge Attacks (except Subduing Blow), Absolute Amplitude and Sprint Attack count as an Opener, thus allowing for them to chain into a Finisher.

Special Opener - Subduing Blow chains into Openers instead of Finishers.

Enhanced Light Maneuvers - Stinging Maneuver, Violent Maneuver and Brisk Maneuver are Enhanced Light attacks. As Enhanced attacks, they will not bounce if blocked.
Side Maneuver Properties - Violent Maneuver strikes from the opposite direction of the Dodge. Brisk Maneuver acts similar to Violent Maneuver (same speed and damage), but strikes from the same direction of the Dodge.

Executable Maneuver - If Brisk Maneuver lands the killing blow on an enemy, the target can be executed as if hit by a Heavy attack.

Subduing Dodges - Zhanhu has access to Superior Block Dodges, where Forward, Left, and Right Dodges have Superior Block property in the direction of the Dodge.

Subduing Counterattack - If you successfully block an incoming attack with the Superior Block of Subduing Dodges, you are able to perform a Maneuver, even if performed late in the dodge. Maneuvers performed from those Dodges will be Unblockable and have increased damage. Violent, Stinging and Brisk Maneuvers are always guaranteed after a Superior Block, while Torturing Maneuver is only guaranteed upon Superior Blocking a high recovery move.

Moves
(From Guard Mode)
| Type | Name | PC | XB1 | PS4 |
| --- | --- | --- | --- | --- |
| | Implacable Sting | LMB, LMB | RB, RB | R1, R1 |
| | Implacable Torture | RMB, RMB | RT, RT | R2, R2 |
| | Stinging Torture | LMB, RMB | RB, RT | R1, R2 |
| | Torturing Sting | RMB, LMB | RT, RB | R2, R1 |
| | Violent Maneuver | A or D + Space, LMB | LS← or LS→ + A, RB | LS← or LS→ + X, R1 |
| | Brisk Maneuver | A or D + Space, RMB | LS← or LS→ + A, RT | LS← or LS→ + X, R2 |
| | Stinging Maneuver | W + Space, LMB | LS↑ + A, RB | LS↑ + X, R1 |
| | Torturing Maneuver | W + Space, RMB | LS↑ + A, RT | LS↑ + X, R2 |
| | Absolute Amplitude | LMB + RMB | RB + RT | R1 + R2 |
| | Subduing Blow | W + Space, MMB | LS↑ + A, X | LS↑ + X, ⬜ |
| | Sprint Attack (Not in Guard Mode) | ↑ + RMB | LS↑ + RT | L3↓+R2 |
Equipment
*Star weapon
| | | |
| --- | --- | --- |
| | Armor Styles | Weapon Styles |
| | | |
| | | |
| | | |
| | | |
| | | |
| | | |
| | | |
Executions
| | | |
| --- | --- | --- |
| Requiescat In Pace | Rampage Of Ragnarok | Cheaty Flute |
| | | |
| --- | --- | --- |
| Blow Your Own Horn | Harpy Hey Joe | Lute Not |
| | | |
| --- | --- | --- |
| Sylvan Vaporization | Horkos Pharmakos | Sylvan Metamorphasis |
| | | |
| --- | --- | --- |
| Revenant Slayer | Ulfhednar Killer | Shiryo Avenger |
| | | |
| --- | --- | --- |
| Jiangshi Banisher | Minified And Put Aside | Minified And Magnified |
| | | |
| --- | --- | --- |
| Minified And Stomped | Minified And Kicked Away | Wolf Among Sheep |
| | | |
| --- | --- | --- |
| Ilma's Scythe | Cane You Feel It | Brought You A Gift |
| | | |
| --- | --- | --- |
| Chimera Salvation | Blades of the Vanguards | Resounding Defeat |
| | | |
| --- | --- | --- |
| Deadly Hare | Sylvan Detachment | To The Great Beyond |
| | | |
| --- | --- | --- |
| Feast Upon The Weak | The Masquerade Is Over | Unquenchable Wolf |
| | | |
| --- | --- | --- |
| Farewell, Chimera Music Box | Farewell, Chimera Zither | Farewell, Horkos Bagpipe |
| | | |
| --- | --- | --- |
| Farewell, Horkos Violin | Wrathful Concision | Willful Concision |
| | | |
| --- | --- | --- |
| Sorrowful Concision | Artful Concision | Aegir's Reach |
| | | |
| --- | --- | --- |
| Anchors Down | Chill Out | Death Metal Triangle |
| | | |
| --- | --- | --- |
| Fish In A Barrel | Get Whale Soon | Off The Hook |
Emotes
Passive Stance
| | | |
| --- | --- | --- |
| The Bard's Instrument | Sword In The Stone | Ready To Rumble |
| | | |
| --- | --- | --- |
| Volcanic Destruction Blast | Jack O Lantern | Leap Of Faith |
| | | |
| --- | --- | --- |
| Penguin Walk | Vortiger's Ascent | Shadows of the Hitokiri |
| | | |
| --- | --- | --- |
| Zhanhu's Fire | Dubious Assessment | One Of Your Shrugs |
| | | |
| --- | --- | --- |
| Howl At The Moon | Confused Warrior | Skeptically Swaying |
| | | | |
| --- | --- | --- | --- |
| Horkos Grimoire | Sylvan Book | Sylvan Meditation | |
| | | |
| --- | --- | --- |
| In ChaRAHcter | Muscular Archer | Muscular Biceps |
| | | |
| --- | --- | --- |
| Message Board | Sylvan Panacea | Selfish Drinker |
| | | |
| --- | --- | --- |
| Chimera Bagpipe | Chimera Music Box | Chimera Violin |
| | | |
| --- | --- | --- |
| Chimera Zither | Horkos Bagpipe | Horkos Music Box |
| | | |
| --- | --- | --- |
| Horkos Violin | Horkos Zither | Odaiko |
| | | |
| --- | --- | --- |
| Raising Glasses | Suspended Gong | The Bodhran |
| | | |
| --- | --- | --- |
| The Field Drum | Suspicious Tumbleweed | Elegant Dance |
| | |
| --- | --- |
| The Bard's Triangle | Gryphon's Fireside |
Fighting Stance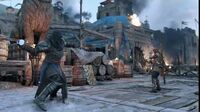 Media
Images
Model
Stills
Concept Art
Videos
External links
References