For Honor Trailer: The Warden (Knight Gameplay) - Hero Series #3
Play Sound
"The Wardens: members of an ancient order...fallen into dust. Sworn to defend the weak, masters of the longsword. Their origins lost to history; still they fight for what is right. Driven by duty, devoted to their people... but only a few may join their order."

For the single player campaign character, see: The Warden
Wardens are a playable hero class in For Honor.
Overview
"The Wardens are powerful, noble warriors dedicated to the defense of their land and their people. Striking a balance between defense and offense, wardens wear partial plate armor with chainmail and leather. Wardens wield massive two-handed longswords for slashing enemies and blocking attacks. Trained to be proud, loyal, and brilliant diplomats, the Wardens are expected to embody the highest values of Knighthood. Many set out to achieve this, few do." [1]
Armor
The Warden's default armor is a set of interwoven metal plates over chainmail, topped by a visored barbuta helmet made to protect against a stray arrow or blade strike. The partial plate is segmented along the torso, arm, and leg joints to provide great dexterity while still granting plenty of protection in battle.
Weapon
Longsword - The two-handed longsword is a double-edged weapon. Its hilt is comprised of a long, jutting cross guard, a heavy pommel for counterbalance, and a grip wrapped in leather. In spite of its size and weight, it remains a versatile weapon offering a balance of offense and defense.
Trivia
The Warden's helmet designs hail from those from the 13th to 15th centuries. Such helmets include the visored barbuta, the great helm, and the visored sugarloaf.
The Warden's side guard stances are inspired from the Pflug stance, a staple of basic medieval swordsmanship dating back to master Liechtenauer of the 1380s.[2]

Similarly, their top guard stance derives from the Schlüssel stance, from which the wielder can efficiently deploy classic strikes like the Krohn or Einhorn strike.

In historical comparison, the armor design for the Warden resembles early 14th century armor.
On June 23rd, 2020 at New Game+ Expo (NGPX) 2020, Warden was announced by SNK Corporation as the 9th DLC character for their weapon-based fighting game Samurai Shodown (2019), added the day after on June 24th. See the trailer here. Check out the Warden's dedicated page on the SNK wiki here or this wiki's dedicated page for the game.

In the series of Samurai Shodown, Warden is the 4th guest character to be added to the game and the first guest character to originate from a non-Japanese game. Strictly in Samurai Shodown (2019), he is the first guest character to be added.
For Honor's Game Director, Nicolas Bombray, and Associate Art Director, Andrew Im, both were featured in a director's message video for this announcement. See the video here.
Masaki Terasoma reprises this role, as he voices male Warden in the Japanese localization of the game.

Executions and Emotes:

The Warden's "Blade Homage" emote is a reference to the Marvel character Blade, specifically to the live action version's portrayal by Wesley Snipes. The emote imitates Blade's pose on the official poster for Blade 2, holding the sword vertically downwards with the handguard near the face.
The Warden execution "Hilt Strike" is a historically accurate technique known as Mordhau, or 'murder-stroke'.

The performing attacker holds the sword from the top (using a special gripping style to avoid cutting their own hands) and swings the hilt as an improvised bludgeon.
Similar to wielding a mace, this blunt strike allowed medieval fighters to hammer through the thick armor that was developed to glance off/block the bladed weapons of its era. Heavy armor could be impervious to cutting attacks, but it could not defend against impact trauma by the hilt.

The Warden's execution "End Them Rightly" is a technique described in the Gladiatoria KK5013, a 15th century German fencing manual, in which it details how a combatant should unscrew the pommel of their sword and throw it at their opponent.

One translation from the manual: "If you want to end him rightly hold your spear and sword together on your arm, unscrew the pommel of your sword and throw it at him vigorously."
Before the release of the game, the concept had become a meme after Medieval weapons youtuber Skallagrim made a video talking about the technique, followed by other youtubers following suit.
However, the nature of throwing the pommel as an execution is mistaken, as the full translation includes a sentence after that the action of throwing the pommel is performed as a distraction before thrusting the sword into one's opponent. Also, the correct translation of the phrase "end him rightly" is actually "end him quickly." Skallagrim has recognized this in later videos, such as this one.
Translation by Keith Ferrel: "If you want to end him quickly, hold your spear and sword together on your arm, unscrew the pommel of your sword and throw it at him vigorously. Close in with the throw and use your sword or spear, whatever suits you best."

The execution "Brutality of Camlann" is a reference to the Battle of Camlann, the reputed final battle of King Arthur.
The execution "Manus manum secat" translates to "One hand cuts off the other," and is a reference to the quote "Manus manum lavat" (One hand washes another) from the Roman Satire "Apocolocyntosis Claudii," also known as "the Pumpkinification of Claudius."
Quotes
Latin: "Miserum!" - English: "Pitiful!"

Male Warden, Shoulder Bash

Latin: "Te secabo!" - English: "I will cut you to pieces!" ("I will sever you!")

Female Warden, Shoulder Bash

Latin: "Perī!" - English: "Die!"/"Perish!"

Female Warden, Crushing Counterstrike

Latin: "Incumbuī!" - English: "I brought my sword down upon you!"

Male Warden, Crushing Counterstrike

Directly translating "incumbuī" in the context of which the Warden is speaking it in is difficult since they are saying the phrase in the perfect tense of "incumbō" which directly translates to "I attack", "I pressure/press on", or "I fall on your sword."
References
Fighting Style
The Wardens are a jack-of-all-trade hero who roam the battlefield with their impressive longswords. They balance defense and offense and are easy to play. They make great choices for new players as they feature a simple-to-learn mix-up and a good set of basic moves.
Difficulty: Easy
Adaptable Fighting Style
Straight-Forward Strategy
Special Capabilities
Unblockable Shoulder-Bash Attack that functions as the Warden's core mix-up, chaining from any attack
Crushing Counter Top Light Opener that guarantees high damage if it successfully blocks an attack
Unblockable Heavy Finishers from all sides
Perks
Available Perks for the Warden can be viewed on the Perks page.
Feats
Tier
1st
2nd
3rd
1
Body Count

Passive | Killing a soldier grants you health and stamina.

Unlocked at level 1

Conqueror

Passive | Capture and upgrade control zones faster.

Unlocked at level 5

Come At Me

Gain more Renown from kills, but take more Damage from Attacks.

Unlocked at level 13

2
Inspire

Nearby allies deal more Damage, and soldiers fight faster.

Unlocked at level 1

Fiat Lux ("let there be light")

Throw a flash grenade that blinds enemies for a few seconds.

Unlocked at level 7

Thrilling Comeback

Passive | When activating Revenge, heal some health.

Unlocked at level 15

3
Second Wind

Recover some of your health.

Unlocked at level 1

Pugno Mortis ("fist of death")

Throw an explosive projectile dealing damage over an area.

Unlocked at level 9

Takedown

Throws make enemies fall to the ground.

Unlocked at level 17

4
Catapult

Call a catapult strike over an area.

Unlocked at level 1

Stalwart Banner

Nearby allies continuously regain health.

Unlocked at level 11

Morale Booster

Improve the attacks of nearby allies for a short duration.

Unlocked at level 19
Moveset
General
Renown: Vanguard - Earn more Renown when controlling objectives, either by capturing or defending them, to unlock your feats in a match.
Revenge Mode - Boosts Damage and Health. All Attacks are Uninterruptible. Parry and Throws knock enemies down. Attacks are Auto-Parried on activation.
Defense: Static - Your Guard Stance remains active in the direction you designate, even when performing a Dodge.
Hero Specific
Light Attack Combo - If a Side Light Opener hits, the second Light Attack from the same direction is guaranteed but deals less damage.
Crushing Counterstrike - Top Light Opener has Superior Block property during the Startup. Use it to counterattack. Attack becomes Unblockable and has enhanced damage after a counter.
Chain Starters - Zone Attack, Rushing Slash and Valiant Breakthrough can be chained into a Heavy Finisher.
Charging Shoulder Bash - Shoulder Bash can be held to delay the move, on top of slightly increasing the speed at which Warden dashes.

Full Charge Shoulder Bash - If a Shoulder Bash is fully charged, it'll have uninterruptible properties.
Attack to Shoulder Bash - Press MMB (PC), X (XB1) or X (PS4) after any Attack to start charging a Shoulder Bash. Attacks that can lead into a Shoulder Bash are Light Attacks, Heavy Attacks, Valiant Breakthrough, Rushing Slash and Zone Attack. A Shoulder Bash cannot lead into another Shoulder Bash.
Shoulder Bash Cancel - Press E (PC), B (XB1) or O (PS4) to cancel Shoulder Bash. Can cancel as long as the Warden hasn't moved forward to Bash.
Shoulder Bash Chain - If Shoulder Bash successfully hits an opponent, Warden can immediately begin a Chain Starter.

Unblockable Heavy Finishers - All Heavy Finishers are unblockable.
Moves
(From Guard Mode)
| Type | Name | PC | XB1 | PS4 |
| --- | --- | --- | --- | --- |
| | Vanguard's Advance | LMB, LMB, RMB | RB, RB, RT | R1, R1, R2 |
| | Guardian's Assault | LMB, RMB | RB, RT | R1, R2 |
| | Warden's Wrath | RMB, RMB | RT, RT | R2, R2 |
| | Rushing Slash (Not in Guard Mode) | ↑ + RMB | LS↓ + RT | LS↓ + R2 |
| | Crushing Counterstrike | Mouse/up + LMB | RS↑ + RB | RS↑ + R1 |
| | Valiant Breakthrough | W + Space, RMB | LS↑ + A, RT | LS↑ + X, R2 |
| | Shoulder Bash | W,A,D + Space, MMB (hold) | LS←↑→ + A, X (hold) | LS←↑→ + X, ⬜ (hold) |
Equipment
*Star weapon
Armor Styles
Weapon Styles

Egeking

Calidorus

Coreiseuse

Caelia

*

Camulus

Ismenian

*
Executions
| | | |
| --- | --- | --- |
| Guts Then Chops | Hilt Strike | Taking Out The Trash |
| | | |
| --- | --- | --- |
| Spinning Decapitation | Backhand Strike | Shoulder Tackle |
| | | |
| --- | --- | --- |
| Blackstone Bash | End Them Rightly | A Moment Of Silence |
| | | |
| --- | --- | --- |
| Knockout | Grave Passing | Brutality of Camlann |
| | | |
| --- | --- | --- |
| Fractured Ribcage | Larry's Banner | Alarius' Wrath |
| | |
| --- | --- |
| Deep Hacking | Manus Manum Secat |
Emotes
Passive Stance
| | | |
| --- | --- | --- |
| Power Surge | I Rock! | Seriously? |
| | | |
| --- | --- | --- |
| I Lost | Victory! (Warden) | Stupid, Stupid! |
| | | |
| --- | --- | --- |
| Warden Coin Toss | Kill Card (Warden) | Recognition (Warden) |
| | | |
| --- | --- | --- |
| Solet (Warden) | Reluctant Applause (Warden) | Ball Hog |
Fighting Stance
| | | |
| --- | --- | --- |
| What's Your Problem? | Sword Point | Twirl |
| | | |
| --- | --- | --- |
| Polite Salute | Blade Homage | Shouldered Blade |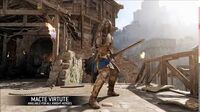 Executions
| | | |
| --- | --- | --- |
| Requiescat In Pace | Rampage Of Ragnarok | Cheaty Flute |
| | | |
| --- | --- | --- |
| Blow Your Own Horn | Harpy Hey Joe | Lute Not |
| | | |
| --- | --- | --- |
| Sylvan Vaporization | Horkos Pharmakos | Sylvan Metamorphasis |
| | | |
| --- | --- | --- |
| Revenant Slayer | Ulfhednar Killer | Shiryo Avenger |
| | | |
| --- | --- | --- |
| Jiangshi Banisher | Minified And Put Aside | Minified And Magnified |
| | | |
| --- | --- | --- |
| Minified And Stomped | Minified And Kicked Away | Wolf Among Sheep |
| | | |
| --- | --- | --- |
| Ilma's Scythe | Cane You Feel It | Brought You A Gift |
| | | |
| --- | --- | --- |
| Chimera Salvation | Blades of the Vanguards | Resounding Defeat |
| | | |
| --- | --- | --- |
| Deadly Hare | Sylvan Detachment | To The Great Beyond |
| | | |
| --- | --- | --- |
| Feast Upon The Weak | The Masquerade Is Over | Unquenchable Wolf |
| | | |
| --- | --- | --- |
| Farewell, Chimera Music Box | Farewell, Chimera Zither | Farewell, Horkos Bagpipe |
| | | |
| --- | --- | --- |
| Farewell, Horkos Violin | Wrathful Concision | Willful Concision |
| | | |
| --- | --- | --- |
| Sorrowful Concision | Artful Concision | Aegir's Reach |
| | | |
| --- | --- | --- |
| Anchors Down | Chill Out | Death Metal Triangle |
| | | |
| --- | --- | --- |
| Fish In A Barrel | Get Whale Soon | Off The Hook |
Emotes
Passive Stance
| | | |
| --- | --- | --- |
| The Bard's Instrument | Sword In The Stone | Ready To Rumble |
| | | |
| --- | --- | --- |
| Volcanic Destruction Blast | Jack O Lantern | Leap Of Faith |
| | | |
| --- | --- | --- |
| Penguin Walk | Vortiger's Ascent | Shadows of the Hitokiri |
| | | |
| --- | --- | --- |
| Zhanhu's Fire | Dubious Assessment | One Of Your Shrugs |
| | | |
| --- | --- | --- |
| Howl At The Moon | Confused Warrior | Skeptically Swaying |
| | | | |
| --- | --- | --- | --- |
| Horkos Grimoire | Sylvan Book | Sylvan Meditation | |
| | | |
| --- | --- | --- |
| In ChaRAHcter | Muscular Archer | Muscular Biceps |
| | | |
| --- | --- | --- |
| Message Board | Sylvan Panacea | Selfish Drinker |
| | | |
| --- | --- | --- |
| Chimera Bagpipe | Chimera Music Box | Chimera Violin |
| | | |
| --- | --- | --- |
| Chimera Zither | Horkos Bagpipe | Horkos Music Box |
| | | |
| --- | --- | --- |
| Horkos Violin | Horkos Zither | Odaiko |
| | | |
| --- | --- | --- |
| Raising Glasses | Suspended Gong | The Bodhran |
| | | |
| --- | --- | --- |
| The Field Drum | Suspicious Tumbleweed | Elegant Dance |
| | |
| --- | --- |
| The Bard's Triangle | Gryphon's Fireside |
Fighting Stance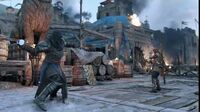 Executions
| | | |
| --- | --- | --- |
| Clarent | Benedicto Militis | Death By Catapult |
Emotes
Passive Stance
| | | |
| --- | --- | --- |
| Down The Hatch! (Knight) | Rub Salt In The Wound (Knight) | Banner Of Arms (Knight) |
Media
Images
Model
Stills
Videos
External links
References