For Honor Trailer: The Valkyrie (Viking Gameplay)
Play Sound
"Valhalla: our reward for dying in battle. But what of those who die elsewhere? The Valkyries - a warrior order who have made a deal with the gods. Each one can earn glory for our fallen dead. In time, they can win a place for the deserving. But they alone decide for whom they fight. Masters of the spear and the shield, scouts, trackers, and perhaps your only hope for salvation."

Valkyries are a playable hero class in For Honor.
Overview
The Valkyries have made a deal with the gods. They will fight and earn glory so that those who can't will be counted in the halls of Valhalla. They are scouts and trackers who use their spears and shields to deadly effect. They are chosen by the gods—pray that you never encounter one on the battlefield.[1]
Armor
The Valkyrie wear mostly leather armor with some metal plates. On their shoulder plates are fur linings that provide warmth in the harsh weather of Valkenheim. Their helmet has a full face plate and ram horns. The skulls of rams are attached to their gauntlets.
Weapon
Spear and Shield - The Spear is a simple weapon: a sharpened metal point at the end of a long wooden shaft. The shield is small and only gives so much protection.
But put them in the hands of a Valkyrie and they are a deadly combination. The long shaft gives the Valkyrie reach, while the shield offers what defense they need. An attack can come from either and an enemy can find themselves on their back if they are too slow.
Trivia
In Norse Mythology, Valkyries were female spirits who chose who lived or died in battle. They brought half the souls of the slain to Valhalla and the other half to Fólkvangr.

The title "Valkyrie" in Old Norse is "valkyrja" which means "chooser of the slain."

While all promotional materials feature the Valkyrie (and other Viking Heroes) wearing a horned helmet, there is no historical proof that Vikings have actually worn such helmets in battle.

Until Season 12, Valkyrie (together with Raider) were not able to go without Ornaments, which in a way reinforced this idea that Vikings had horned helmets. Oddly enough, Warlord did not possess this restriction, although he is another Viking Hero who wears a helmet and can have horns for Ornaments.

While the game lists Valkyrie as a hard character, the website lists her as a medium. This is possibly due to the Valkyrie being listed as medium during testing, changed for the final game, and the website has chosen not to update this information.
Valkyrie together with Raider are featured in Ubisoft's free-to-play RPG game Might Quest, announced on February 14th, 2020. A dedicated blog post was made for this addition, which can be read here.
Although Valkyrie possesses an ability in her moveset called "Dodge Block," it is effectively a Deflect as it functions almost like one.

It is not called a Deflect as Valkyrie possesses a Static Guard compared to the Assassin's Reflex Guard, on top of the Dodge Block possessing Superior Block property in contrast to the Deflect which does not reflect Light Attacks (akin to blocking when Exhausted).

The "Val the Impaler" Execution is a reference to Vlad the Impaler.
The "Get to the Chopper!" Execution refers to a line said during the first film of the Predator series.
Quotes
Icelandic: "ÉG DREP ÞIG!" – English: "I'll kill you!"
Icelandic: "Dauðastund!" - English: "Time to die!" or "(This is your) moment of death!"

Shield charge or Shield Tackle

Icelandic: "Þú ert minn!" – English: "You're mine!"
Icelandic: "Þinn tími er runninn upp!" – English: "Your time has run out!"
Icelandic: "Hér bíður þín bara dauðinn!" – English: "Only death awaits you here!"

Through and Through Execution

Icelandic: "Örlög þín eru ráðin!" – English: "Your fate is sealed!"
Source
Fighting Style
The Valkyrie is versatile with a slew of mix-ups in their chain. She is a very adaptable Hero and very good at keeping pressure on her foes through the use of Shield Bashes and Spear Sweep.
Difficulty: Hard
Keeps Enemies at Bay
Versatile Combos
Special Capabilities
Heavy attacks and Zone Attack can be soft-feinted into Shield Crush to keep chains going
Can use Spear Sweep after a throw or as a Chain Finisher to knock enemies off balance for a punish
Can use Superior Block Lights, Dodge Block and Shield Tackle to counter-attack
Perks
Available Perks for the Valkyrie can be viewed on the Perks page.
Feats
Tier
1st
2nd
3rd
1
Rush

Trigger to gain movement speed for a short duration.

Deadly

Passive | Attacks deal more Damage

Bounty Hunter

Passive | Gain Health & Stamina when you kill another hero

2
Killing heroes grants temporary attack and defense boosts

Bear Trap

Medium damage trap that stops victims in their tracks.

Juggernaut

You're slowed and gain high Damage reduction

3
Javelin
Throw a javelin for moderate damage.

Fury

Raise sprint speed slightly and attack and defense greatly.

Sharpen Bladed

Attacks inflict low Damage over time.

4
Scout
All enemies are marked for death and show up on radar.

Fire Flask

Throw a projectile creating a fire area of effect.

Regenerate

Passive | Regenerate your Health when out of combat
Moveset
General
Renown: Hybrid - Renown is balanced across activities.
Revenge Mode - Boosts Damage and Health. All Attacks are Uninterruptible. Parry and Throws knock enemies down. Attacks are Auto-Parried on activation.
Defense: Static - Your Guard Stance remains active in the direction you designate. Unlike most other Static Guard Heroes, Valkyrie also has Superior Dodge Block.
Hero Specific
Superior Block Light Attacks - Light Attacks have Superior Block property during the Startup. If the Superior Block successfully blocks an attack, the attack will become a Crushing Counterstrike (becomes unblockable and deal increased damage). Use it to counterattack.
Superior Dodge Block (Superior Deflect) - Forward, Left, and Right Dodges have Superior Block property in the direction of the Dodge. Valkyrie's Superior Block Dodge functions much like a Deflect (only a start-up of the Dodge has the Block), but with Superior Block properties.

Superior Block Counter - If Valkyrie successfully blocks an incoming attack with her Superior Dodge Block, she can input a Heavy Attack to perform a Shoulder Pin which pins the target, deals damage together with inflicting bleed. She can also input a Light after the block to perform her Dodge Attacks (Pouncing Thrust and Hunter's Strike), although they will not receive any special properties.

Full Block Stance on Shield Tackle - Shield Tackle can be held with the Guardbreak input to perform a Full Block stance at the cost of Stamina.

Shield Tackle Cancel - Cancel Shield Tackle with B (XB1), E (PC) or O (PS4) before the tackle. Cannot cancel during the tackle charge.

Shield Crush - Press Guardbreak during a Heavy Attack Startup or after the first strike of a Zone Attack to cancel into a Shield Crush. Shield Crush functions similarly to Shield Tackle.
Zone Attack - Zone Attack can be cancelled with B (XB1), E (PC) or O (PS4) after the first swing.
Spear Sweep Surprise - Press MMB (PC), X (XB1), ■ (PS4) instead of a Chain Finisher or after throwing an enemy to perform a Spear Sweep. If Spear Sweep successfully lands, the enemy will be knocked down.

Spear Sweep Punish - Heavy Attack immediately after a successful Spear Sweep to perform a Spear Sweep Punish. Spear Sweep Punish is guaranteed.

Chain Openers - Shield Tackle, Shield Crush, Shoulder Pin, Pouncing Thrust, and Hunter's Strike count as Chain Openers.
Side Light Attack Finishers - Side Light Attack Finishers Stun the target while knocking them away from the side the attack came from.
Moves
(From Guard Mode)
| Type | Name | PC | XB1 | PS4 |
| --- | --- | --- | --- | --- |
| | Boar Hunter | LMB, LMB, LMB | RB, RB, RB | R1, R1, R1 |
| | Thrust and Slash | LMB, LMB, RMB | RB, RB, RT | R1, R1, R2 |
| | Norse Punishment | LMB, RMB, RMB | RB, RT, RT | R1, R2, R2 |
| | Herja's Furor | RMB, RMB, RMB | RT, RT, RT | R2, R2, R2 |
| | Valkyrian Torment | RMB, RMB, LMB | RT, RT, RB | R2, R2, R1 |
| | Harrier's Fury | RMB, LMB, LMB | RT, RB, RB | R2, R1, R1 |
| | Herja's Assault | RMB, LMB, RMB | RT, RB, RT | R2, R1, R2 |
| | Piercing Wrath | LMB, RMB, LMB | RB, RT, RB | R1, R2, R1 |
| | Hunter's Rush (not in Guard Mode) | ↑ + RMB | LS↓ + RT | LS↓ + R2 |
| | Pouncing Thrust | W + Space, LMB | LS↑ + A, RB | LS↑ + X, R1 |
| | Hunter's Strike | A or D + Space, LMB | LS← or LS→ + A, RB | LS← or LS→ + X, R1 |
| | Shield Tackle | S + Space, Hold & Release MMB | LS↓ + A, Hold & Release X | LS↓ + X, Hold & Release L1 |
| | Shoulder Pin | Deflect♦, RMB | Deflect♦, RT | Deflect♦, R2 |
| | Spear Sweep Combo | MMB ♦, MMB, MMB, RMB | X ♦, X, X, RT | L1 ♦, L1, L1, R2 |
Equipment
*Star weapon
Armor Styles
Weapon Styles

Groenn Havardr

Exalted Eerika

Kraken

*

Sea Spirit

Carrion Eater

Gae Bolg

*

Kaer Azel

Hrafnsmal

*

Branwen Twins

Lindworm

Bladed Wing

Yrsa

*

Icovellavna

*

Drekar
Executions
| | | |
| --- | --- | --- |
| Requiescat In Pace | Rampage Of Ragnarok | Cheaty Flute |
| | | |
| --- | --- | --- |
| Blow Your Own Horn | Harpy Hey Joe | Lute Not |
| | | |
| --- | --- | --- |
| Sylvan Vaporization | Horkos Pharmakos | Sylvan Metamorphasis |
| | | |
| --- | --- | --- |
| Revenant Slayer | Ulfhednar Killer | Shiryo Avenger |
| | | |
| --- | --- | --- |
| Jiangshi Banisher | Minified And Put Aside | Minified And Magnified |
| | | |
| --- | --- | --- |
| Minified And Stomped | Minified And Kicked Away | Wolf Among Sheep |
| | | |
| --- | --- | --- |
| Ilma's Scythe | Cane You Feel It | Brought You A Gift |
| | | |
| --- | --- | --- |
| Chimera Salvation | Blades of the Vanguards | Resounding Defeat |
| | | |
| --- | --- | --- |
| Deadly Hare | Sylvan Detachment | To The Great Beyond |
| | | |
| --- | --- | --- |
| Feast Upon The Weak | The Masquerade Is Over | Unquenchable Wolf |
| | | |
| --- | --- | --- |
| Farewell, Chimera Music Box | Farewell, Chimera Zither | Farewell, Horkos Bagpipe |
| | | |
| --- | --- | --- |
| Farewell, Horkos Violin | Wrathful Concision | Willful Concision |
| | | |
| --- | --- | --- |
| Sorrowful Concision | Artful Concision | Aegir's Reach |
| | | |
| --- | --- | --- |
| Anchors Down | Chill Out | Death Metal Triangle |
| | | |
| --- | --- | --- |
| Fish In A Barrel | Get Whale Soon | Off The Hook |
| | | |
| --- | --- | --- |
| The Huntress' Prey | Ran's Bestowment | What Goes Around |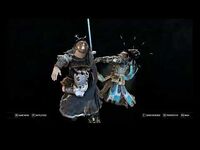 Emotes
Passive Stance
| | | |
| --- | --- | --- |
| The Bard's Instrument | Sword In The Stone | Ready To Rumble |
| | | |
| --- | --- | --- |
| Volcanic Destruction Blast | Jack O Lantern | Leap Of Faith |
| | | |
| --- | --- | --- |
| Penguin Walk | Vortiger's Ascent | Shadows of the Hitokiri |
| | | |
| --- | --- | --- |
| Zhanhu's Fire | Dubious Assessment | One Of Your Shrugs |
| | | |
| --- | --- | --- |
| Howl At The Moon | Confused Warrior | Skeptically Swaying |
| | | | |
| --- | --- | --- | --- |
| Horkos Grimoire | Sylvan Book | Sylvan Meditation | |
| | | |
| --- | --- | --- |
| In ChaRAHcter | Muscular Archer | Muscular Biceps |
| | | |
| --- | --- | --- |
| Message Board | Sylvan Panacea | Selfish Drinker |
| | | |
| --- | --- | --- |
| Chimera Bagpipe | Chimera Music Box | Chimera Violin |
| | | |
| --- | --- | --- |
| Chimera Zither | Horkos Bagpipe | Horkos Music Box |
| | | |
| --- | --- | --- |
| Horkos Violin | Horkos Zither | Odaiko |
| | | |
| --- | --- | --- |
| Raising Glasses | Suspended Gong | The Bodhran |
| | | |
| --- | --- | --- |
| The Field Drum | Suspicious Tumbleweed | Elegant Dance |
| | |
| --- | --- |
| The Bard's Triangle | Gryphon's Fireside |
Fighting Stance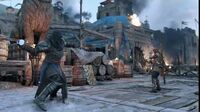 Executions
| | | |
| --- | --- | --- |
| Dainslief | Sjaund | Death By Spears |
Emotes
Passive Stance
| | | |
| --- | --- | --- |
| Down The Hatch! (Viking) | Rub Salt In The Wound (Viking) | Banner Of Arms (Vikings) |
Media
Images
Videos
External links
References