Training Mode is a series of tutorials that teaches the player basic and advanced game mechanics used in For Honor.
Apprentice Trials
Edit
For all warriors who have just joined the For Honor battlefield, Apprentice Trials is the new onboarding system where you'll learn basic techniques of the art of battle, including:
How to use light and heavy attacks
How to dodge and roll
How to use Guard Break
How to conserve your stamina during combat
You'll be graded as you go, so you know which areas need improvement, and will be given rewards based on your performance.
Warrior Trials
Edit
For warriors looking to take the next step in their training, Warrior Trials teaches more advanced battle techniques, such as:
External blocks
Parries
Revenge mode
Zone attacks
Advanced Guardbreak
Feints
Just like Apprentice Trials, you will be graded and given rewards based on your performance.
Training Arena
Edit
The arena is your training ground to customize as you see fit. You can test new heroes, perfect mix-ups and timings, and learn how to retaliate against specific heroes who are giving you trouble. The arena allows you to:
Customize AI behavior
Set modifiers on your hero regarding health, stamina, and revenge state
Gain insights on damage points and stamina costs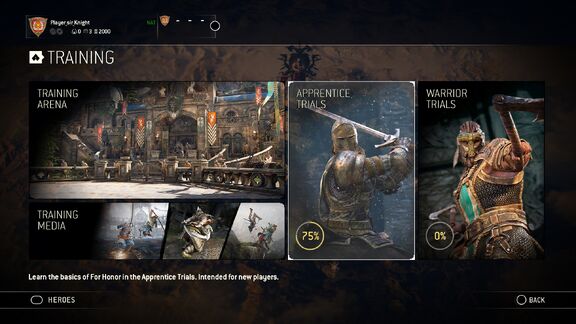 Community content is available under
CC-BY-SA
unless otherwise noted.