Tiandi is a playable hero class in For Honor.
Overview
The Tiandi are loyal protectors of kings, queens, and emperors. Their name, which means "heaven and earth," represents their lifelong dedication. They are masters of the Dao blade, the weapon of choice for this Royal Guard.
The Tiandi take an oath of loyalty to their ruler. It is an oath that binds them to their ruler for life. They are renowned for their courage and dignity in battle. When a Tiandi's ruler loses their life, the Tiandi becomes a terrifying warrior free of constraints. They fight with the same dedication, but their cause is known only to them.
Armor
The Tiandi wears a metal cuirass. Dragons are engraved into their pauldrons and spikes protrude from their bracers and greaves. Faulds cover their legs and is held up by a thick belt. A single decorative feather rests atop their helmet.
Weapon
Dao - Single handed Chinese saber or broadsword made to cut down enemies in a flurry of slashes.
Known Tiandi
Trivia
Tiandi's armor is inspired by the Sui Dynasty (581–618CE) armor in ancient China.
The Dao blade was the first teased weapon, thus was the first hint as to what was the upcoming faction.
The name "tiāndì" means "Heaven and Earth" (天地), referring to the ancient Chinese description of the world.[1]
Tiandi's fighting style resembles that of the Changquan.
The execution "Yi Ru Fan Zhang" is a four-character idiom which means "very easy" (易如反掌; lit. "as easy as turning over a hand"). This is coupled with how the execution may be a possible reference to Kung Fu videos where the Sifu easily defends against a student all while looking at the camera.
The execution "Feng Closa" (Wind General) is named after a weather deity of the same name who was the general of the wind.
Quotes
Chinese: 疯狂就是力量 (Fēngkuáng jiùshì lìliàng) - English: "Madness is power!"

Male Tiandi, dodge heavy (Tiger dodge)
Chinese: 让你灰飞烟灭 (ràng nî huīfeīyānmiè) - English: "You'll vanish into dust!"

Female Tiandi, dodge heavy (Tiger dodge)
Chinese: 吾乃天地 (Wú nǎi tiāndì) - English: "I am Tiandi!"

Male Tiandi, dodge light (Dragon dodge)
Chinese: 害虫去死 (hàichóng qù sǐ) - English: "Die, you pest!"

Female Tiandi, dodge light (Dragon dodge)
Chinese: 吃我一刀 (Chī wǒ yīdāo) - English: "Eat my blade!"
Chinese: 我所向无敌 (Wǒ suǒxiàng wúdí) - English: "I am invincible!"

Female Tiandi, Palm strike
Chinese: 你已败矣 (Nǐ yǐ bài yǐ) - English: "You have lost!"
Chinese: 乱臣贼子 (Luànchén zéizǐ) - English: "You scoundrel!"

Female Tiandi, Dragon kick
Reference
Fighting Style
The Tiandi is able to use a series of dodges and dodge attacks to weave through combat, avoiding and countering enemy attacks. The most agile among the Vanguards, the Tiandi can interrupt their opponents with their palm strike or even unbalance them with a kick, creating opportunities for allies to land lethal blows.
Difficulty: Easy
Adaptable Fighting Style
Dodge Specialist
Special Capabilities
Able to dodge after chain openers, combined with graceful Dodge attacks through Dragon Dodge.
Palm strikes break opponents' guard at close range and guarantee a light
After the first attack of a Zone Attack or after a Heavy Opener, perform a powerful kick that sends opponents flying
Perks
Available Perks for the Tiandi can be viewed on the Perks page.
Feats
Tier
1st
2nd
3rd
1
Rally Call

Passive | Allies gain strength based on how low your health is.

Unlocked at level 1

Come at Me

Heal and get more Renown from kills, but take more damage from attacks.

Unlocked at level 5

Tireless

Passive | Lose Stamina at a lower rate.

Unlocked at level 13

2
Sacrifice

Sacrifice health to heal, restore stamina and cleanse allies.

Unlocked at level 1

Marked for Death

Reveal target's position and lower their Stamina & Defense.

Unlocked at level 7

Doom Banner

Nearby enemies have less powerful attack and defense.

Unlocked at level 15

3
Vital Leech

Passive | Life Leech when at low health, increased when at critical health.

Unlocked at level 1

Battlecry

Allies and yourself deals more damage, enemy soldiers flee.

Unlocked at level 9

Protected Revive

Passive | Your Revive grants shields to allies.

Unlocked at level 17

4
Indomitable

Passive | Gain Shield when at critical health.

Unlocked at level 1

Morale Booster

Improve Damage for you and your allies for a short duration.

Unlocked at level 11

Last Laugh

Passive | Drop a High Damage grenade upon death unless executed.

Unlocked at level 19
Moveset
General
Renown: Vanguard - Earn more Renown when controlling objectives, either by capturing or defending them, to unlock your feats in a match.
Revenge Mode - Boosts Damage and Health. All Attacks are Uninterruptible. Parry and Throws knock enemies down. Attacks are Auto-Parried on activation.
Defense: Static - Your Guard Stance remains active in the direction you designate. Unlike most other Static Guard Heroes, Tiandi also has Normal Block Dodges.
Hero Specific
Palm Strike - After a successful Light Attack Opener or a Tiger Dodge, you can follow up with a Palm Strike by pressing its designated inputs.

Palm Strike Combo - The Light Attack in Palm Strike Combo is a guaranteed Top Light Finisher.
Heavy Palm Strike - The Heavy Attack in Heavy Palm Strike acts as a Dragon Dodge Top, thus functioning as a Heavy Chain Starter.

Dragon Kick - After a Heavy Attack Opener, a Dragon Dodge, or the first strike of a Zone Attack, you can follow up with a unbalancing Dragon Kick with the Guardbreak input.

Dragon Kick Requirements - Dragon Kick requires the Heavy Attack Openers or Dragon Dodges to land, hit or be blocked; Tiandi cannot kick if they miss with these moves.

Dragon Kick Cancel - You can cancel your Kick with a Dodge or a Dodge Attack.
Normal Block Dodges - Forward, Left, and Right Dodges have Normal Block property in the direction of the Dodge.
Dodge Openers - All Dodge Attacks function as a Chain Starter.
Superior Block Tiger Dodge - Tiger Dodge's Superior Block becomes a Crushing Counter (Unblockable and enhanced damage) if successful in blocking an incoming attack.
Flow Like Water - You can cancel your Basic Attack Opener recoveries with a Dodge or Dodge Attack.

Dancing Dragon - You can cancel Dragon Dodge Side with a Dodge or Dodge Attack.
Extended Dodge Attack - Dragon Dodge Side has an extended dodge property, allowing the Tiandi to avoid attacks more easily.

Undodgeable Attacks - Tiger Dodge moves are undodgeable.
Zone Attack Cancel - You can cancel your zone attack by pressing Cancel or with a Kick by pressing Guardbreak after the first strike.
Moves
(From Guard Mode)
| Type | Name | PC | XB1 | PS4 |
| --- | --- | --- | --- | --- |
| | Lightning Steps | LMB, LMB | RB, RB | R1, R1 |
| | Thunder Clap | LMB, RMB | RB, RT | R1, R2 |
| | Typhoon Whirl | RMB, RMB | RT, RT | R2, R2 |
| | Backhand Flurry | RMB, LMB | RT, RB | R2, R1 |
| | Sprint Attack (Not in Guard Stance) | ↑ + RMB | LS↓(press to sprint) + RT | L3↓(press to sprint) + R2 |
| | Top Tiger Dodge | W + Space, LMB | LS↑ + A, RB | LS↑ + X, R1 |
| | Side Tiger Dodge | A or D + Space, LMB | LS← or LS→ + A, RB | LS← or LS→ + X, R1 |
| | Dragon Dodge Top | W + Space, RMB | LS↑ + A, RT | LS↑ + X, R2 |
| | Dragon Dodge Side | A or D + Space, RMB | LS← or LS→ + A, RT | LS← or LS→ + X, R2 |
| | Palm Strike | S, MMB | LS ↓, X | LS ↓, ⬜ |
| | Palm Strike Combo | S, MMB, LMB | LS ↓, X, RB | LS ↓, ⬜, R1 |
| | Heavy Palm Strike | S, MMB, RMB | LS ↓, X, RT | LS ↓, ⬜, R2 |
| | Zone Attack | LMB + RMB | RB + RT | R1 + R2 |
Equipment
*Star Weapon
**Rarity unknown
| | | |
| --- | --- | --- |
| | Armor Styles | Weapon Styles |
| | | |
| | | |
| | | |
| | | |
| | | |
| | | |
| | | |
Executions
| | | |
| --- | --- | --- |
| Typhoon Punishment | Revolution | Monsoon Frenzy |
| | | |
| --- | --- | --- |
| Down To Earth | Hold This | Swallow's Backspin |
| | | |
| --- | --- | --- |
| Yi Ru Fan Zhang | | |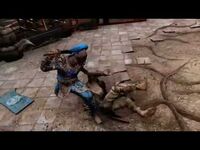 Emotes
Passive Stance
| | | |
| --- | --- | --- |
| It's Just Dirt! | Watch And Learn | Show And Tell |
| | | |
| --- | --- | --- |
| Tui La | Bent | Hot! Hot! Hot! |
| | |
| --- | --- |
| Solet (Tiandi) | Reluctant Applause (Tiandi) |
Fighting Stance
| | | |
| --- | --- | --- |
| Lai | Bring It On | Swordspin |
Executions
| | | |
| --- | --- | --- |
| Requiescat In Pace | Rampage Of Ragnarok | Cheaty Flute |
| | | |
| --- | --- | --- |
| Blow Your Own Horn | Harpy Hey Joe | Lute Not |
| | | |
| --- | --- | --- |
| Sylvan Vaporization | Horkos Pharmakos | Sylvan Metamorphasis |
| | | |
| --- | --- | --- |
| Revenant Slayer | Ulfhednar Killer | Shiryo Avenger |
| | | |
| --- | --- | --- |
| Jiangshi Banisher | Minified And Put Aside | Minified And Magnified |
| | | |
| --- | --- | --- |
| Minified And Stomped | Minified And Kicked Away | Wolf Among Sheep |
| | | |
| --- | --- | --- |
| Ilma's Scythe | Cane You Feel It | Brought You A Gift |
| | | |
| --- | --- | --- |
| Chimera Salvation | Blades of the Vanguards | Resounding Defeat |
| | | |
| --- | --- | --- |
| Deadly Hare | Sylvan Detachment | To The Great Beyond |
| | | |
| --- | --- | --- |
| Feast Upon The Weak | The Masquerade Is Over | Unquenchable Wolf |
| | | |
| --- | --- | --- |
| Farewell, Chimera Music Box | Farewell, Chimera Zither | Farewell, Horkos Bagpipe |
| | | |
| --- | --- | --- |
| Farewell, Horkos Violin | Wrathful Concision | Willful Concision |
| | | |
| --- | --- | --- |
| Sorrowful Concision | Artful Concision | Aegir's Reach |
| | | |
| --- | --- | --- |
| Anchors Down | Chill Out | Death Metal Triangle |
| | | |
| --- | --- | --- |
| Fish In A Barrel | Get Whale Soon | Off The Hook |
Emotes
Passive Stance
| | | |
| --- | --- | --- |
| The Bard's Instrument | Sword In The Stone | Ready To Rumble |
| | | |
| --- | --- | --- |
| Volcanic Destruction Blast | Jack O Lantern | Leap Of Faith |
| | | |
| --- | --- | --- |
| Penguin Walk | Vortiger's Ascent | Shadows of the Hitokiri |
| | | |
| --- | --- | --- |
| Zhanhu's Fire | Dubious Assessment | One Of Your Shrugs |
| | | |
| --- | --- | --- |
| Howl At The Moon | Confused Warrior | Skeptically Swaying |
| | | | |
| --- | --- | --- | --- |
| Horkos Grimoire | Sylvan Book | Sylvan Meditation | |
| | | |
| --- | --- | --- |
| In ChaRAHcter | Muscular Archer | Muscular Biceps |
| | | |
| --- | --- | --- |
| Message Board | Sylvan Panacea | Selfish Drinker |
| | | |
| --- | --- | --- |
| Chimera Bagpipe | Chimera Music Box | Chimera Violin |
| | | |
| --- | --- | --- |
| Chimera Zither | Horkos Bagpipe | Horkos Music Box |
| | | |
| --- | --- | --- |
| Horkos Violin | Horkos Zither | Odaiko |
| | | |
| --- | --- | --- |
| Raising Glasses | Suspended Gong | The Bodhran |
| | | |
| --- | --- | --- |
| The Field Drum | Suspicious Tumbleweed | Elegant Dance |
| | |
| --- | --- |
| The Bard's Triangle | Gryphon's Fireside |
Fighting Stance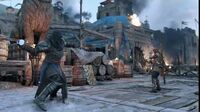 Media
Images
Armor
Stills
Videos