For Honor – New Campaign Details Revealed
Play Sound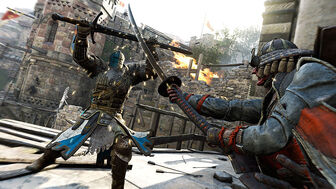 Campaign is a game mode in For Honor. Each Faction has their own campaign missions. They can be played as a single-player or in a 2 player co-op. It is a story that will initially help players learn how to play the chosen class in For Honor, but its main purpose is to tell a tale of the greatest warriors among the Vikings, Knights, and Samurai. A tale of warring factions deep in a crucial moment of an age-old war where they battle not only their faction enemies but the army of the merciless and bloodthirsty warlord Apollyon.
Players will find themselves storming castles and fortresses in their dire attempt to turn the tide of battle. They will clean ranks of soldiers and officers alike with the help of Feats. They will confront deadly bosses in duels and become heroes of legend.
Protagonist Stories
The Warden Story
The Warden is a courageous and talented young knight from the lands of the Iron Legion. Wardens are expected to be noble and brave – living embodiments of virtue – and this one has the potential to be that and more. But after years of fighting endless battles for no worthy cause, The Warden has begun wandering, seeking a purpose equal to his talents and genuinely worth fighting for. That search comes to end in Ashfeld, among the warriors of the Blackstone Legion.
The Raider Story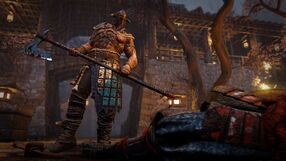 The Raider is a fearless but rage-filled warrior that is tired of watching their fellow Vikings spill one another's blood. Raiders, as a rule, can be bloodthirsty – and this one is certainly no exception – but they are also filled with an immense love and pride for their people. Whether by force, guile, or sheer determination, this fierce warrior intends to unite the Warborn clans. And may the gods have mercy on whoever gets in their way.
The Orochi Story
The Orochi was a rapidly rising Champion in the Emperor's service, but an unfortunate habit of speaking out of turn put an end to a promising career and sent the Champion to languish in captivity. However, the Orochi's deep faithfulness and good spirit earned many loyal friends who are keen on seeing their friend's honor restored-as soon as the small matter of springing the Champion out of prison has been dealt with.
Missions
Knights Chapter
Vikings Chapter
Samurai Chapter
Media
Images
Videos
References