For Honor Trailer: The Peacekeeper (Knight Gameplay) – Hero Series #9
Play Sound
"When wars end, it is the silent blade that keeps the peace. But when wars rage, a peacekeeper's work is never done. Quick, lethal, they can win a fight before the enemy even knows they're there. Dancers of death with dual blades for dancing partners. Selected from the desperate, the humble, or the devoted. Sworn to secrecy by unbreakable oaths; what they know could destroy legends... or create them."

Peacekeepers are a playable hero class in For Honor.
Overview
Quick, lethal, and can win a fight before their enemy even knows they are there. It takes a special type of warrior to be a silent blade. Theirs is not a legacy of glory. They are an instrument of death, wielded to turn the tides of war. You may never see them. But you will feel the difference they make and the trail they leave behind.[1]
Armor
The Peacekeepers wear light leather with hints of mail underneath. They are equipped with armored shoulder plates and shin protectors. They wear a helm with a cage visor and a brown hood to conceal their faces.
Weapons
Sword and Dagger - The combination of sword and dagger gives the wielder deadly counter-attacking ability. What the dagger lacks in damage, it makes up for in speed and versatility.
Trivia
Historically, using a sword and dagger was the most common form of dual wielding. The sword would be used for offense while the dagger would be used for defense and parrying.

It is good to note that the parrying dagger (or the use of a dagger dual-wielded with another weapon) did not come into use until the late Middle ages, around the 15th to 16th century.
Historically, the concept of duel wielding was not considered practical outside of 1 versus 1 duels and was never intended to be a legitimate warfare technique.

The Peacekeeper's Exsanguis passives on bleeding foes, "Exsanguis Celeritas" and "Exsanguis Laceratrix," respectively translate to "Speed of the Bloodless" and "Lacerater of the Bloodless."
Peacekeeper's quote for deflects or her execution "Stepped Stool" utilizes "Moritūrus," which in correct latin would include "es" to make "Moritūrus es!" to complete it as a verb.
Executions
Latin: "Peri!" - English: "Die!"/"Perish!"

Deep Gouge, Successful Stab or Deadly Embrace Execution

Latin: "Tu moritūrus!" - English: "You are going to die!"

Deflect or Stepped Stool Execution

Latin: "Saltem te tentavisti!" - English: "At least you tried!"

Arrow In The Head Execution
Fighting Style
Peacekeepers are fast, maneuverable, and deadly. They use their dagger to follow up Heavy attacks or to feint them, inflicting Bleed Damage to their opponents. Once the opponent is bleeding, the Peacekeepers will be able to go on the full-offensive as their attacks become augumented.
Difficulty: Medium
Counter-attacker fighting style
Short range but high mobility
Special Capabilities
Multitude of soft-feint options from Heavy attacks and Zone Attack, including Dagger Cancel
Dagger attacks will inflict bleed damage
Attacks are augumented when facing a Bleeding target, allowing for more aggressive combat
Perks
Available Perks for the Peacekeeper can be viewed on the Perks page.
Feats
Tier
1st
2nd
3rd
1
Bounty Hunter

Passive | Gain Health & Stamina when you kill another hero

Stealth

Passive | Hide yourself from the HUD, Radar & Aim Assist

Conqueror

Passive | Capture and upgrade control zones faster.

2
Fiat Lux ("let there be light")

Throw a flash grenade that blinds enemies for a few seconds.

Thick Skin

Passive | Gain moderate Damage reduction.

Executioner's Respite

Passive | The base healing of Executions are increased by 50%.

3
Crossbow

Fire a crossbow bolt for medium Damage.

Pugno Mortis ("fist of death")

Throw an explosive projectile dealing damage over an area.

Sharpen Blade

Attacks inflict low Damage over time.

4
Fear Itself

Enemies around you have lower Stamina regeneration and defenses

Catapult

Call a catapult strike over an area.

Last Laugh Passive | Drop a high Damage grenade when you die.
Moveset
General
Renown: Assassin - Earn more Renown in 1vX fights, by killing enemy Heroes, and getting killing streaks to unlock your feats in a match. (non-Dominion/Breach gamemodes only)
Revenge Mode - Boosts Damage and Health. All Attacks are Uninterruptable. Parry and Throws knock enemies down. Attacks are Auto-Parried on activation.
Defense: Reflex - Your Guard Stance only remains active for a limited time, lasting for one second.
Deflect - Dodge in the direction of an incoming Attack just before impact to Deflect it. Deflects grant a Hero access to unique tools.
Hero Specific
Riposting Stab - After a deflect, Peacekeeper can perform a guaranteed Stab maneuver to inflict Bleed.
Heavy Cancels - Chain Heavy Attacks can be canceled during their start-up with Guardbreak, a Dodge or a Dagger Cancel.
Poisonous Stab - All Stab Attacks (Deep Gouge, Stab, Riposting Stab, Dagger Cancel) deal bleed damage. Bleed proced by Peacekeeper stack. Stab Attacks always strike from the Top.

Exsanguis Celeritas - Light Attacks against bleeding targets are Enhanced.
Exsanguis Laceratrix - When locked onto a bleeding target, Heavy Finishers and the second strike of Zone Attack will be Unblockable.

Dagger Cancel - Perform a Light Attack during the Startup of any Heavy Attack or after the first strike of a Zone Attack to stab your foe.

Dagger Follow-up - Deep Gouge - Perform a Light Attack during the recovery of any successful (not blocked) Heavy Attack or Dodge Attack to perform Deep Gouge, a guaranteed Stab Attack.
Dagger Cancel Recovery - Cancel the recovery of Dagger Cancel with a Dodge.

Timed Stab - The Light Attacks of Stab require proper timing to perform. If performed too slowly or too quickly, the inputs will not register. Compared to other timed moves, Stab's timing is lenient.

Stab Cancel - Press X (XB1),⬜ (PS4) or MMB (PC) during Stab to throw the opponent. This cannot be performed once all three stabs have been inflicted.

Zone Attack - Cancel Zone Attack after the first Attack with B (XB1), ◯ (PS4) or E (PC), or soft feint into a Dodge or Guardbreak with their respective button input.

Zone Attack from Guardbreak - Peacekeeper is able to perform a Zone Attack smoothly upon guardbreaking an opponent.

Undodgeable Lunge - Slipping Lunge is undodgeable.
Moves
(From Guard Mode)
| Type | Name | PC | XB1 | PS4 |
| --- | --- | --- | --- | --- |
| | Twisting Blade | LMB, LMB, RMB | RB, RB, RT | R1, R1, R2 |
| | Dervish Strikes | LMB, RMB | RB, RT | R1, R2 |
| | Sword Dance | RMB, RMB | RT, RT | R2, R2 |
| | Slipping Lunge (not in Guard Mode) | ↑ + MMB | LS (press to sprint) + X | L3 (press to sprint) + ⬜ |
| | Deep Gouge | RMB ♦, LMB | RT ♦, RB | R2 ♦, R1 |
| | Dashing Thrust | W+Space, RMB | LS↑ + A, RT | L3 ↑ + X, R2 |
| | Sidestep Strike | A or D+Space, RMB | LS ← or → + A, RT | L3 ← or → + X, R2 |
| | Stab | MMB ♦, LMB, LMB, LMB | X ♦, RB, RB, RB | ⬜ ♦, R1, R1, R1 |
| | Riposting Stab | Deflect, RMB | Deflect, RT | Deflect, R2 |
Equipment
*Star weapon
**Rarity unknown
Armor Styles
Weapon Styles

Aletha

Bellona's

*

Chrysaor

Emerald Squire

Larunda's

Siren's Song

Snow White

*

Stained Glass

*

Trismyar

*

Undine

*

Vesper

*
Executions
| | | |
| --- | --- | --- |
| Requiescat In Pace | Rampage Of Ragnarok | Cheaty Flute |
| | | |
| --- | --- | --- |
| Blow Your Own Horn | Harpy Hey Joe | Lute Not |
| | | |
| --- | --- | --- |
| Sylvan Vaporization | Horkos Pharmakos | Sylvan Metamorphasis |
| | | |
| --- | --- | --- |
| Revenant Slayer | Ulfhednar Killer | Shiryo Avenger |
| | | |
| --- | --- | --- |
| Jiangshi Banisher | Minified And Put Aside | Minified And Magnified |
| | | |
| --- | --- | --- |
| Minified And Stomped | Minified And Kicked Away | Wolf Among Sheep |
| | | |
| --- | --- | --- |
| Ilma's Scythe | Cane You Feel It | Brought You A Gift |
| | | |
| --- | --- | --- |
| Chimera Salvation | Blades of the Vanguards | Resounding Defeat |
| | | |
| --- | --- | --- |
| Deadly Hare | Sylvan Detachment | To The Great Beyond |
| | | |
| --- | --- | --- |
| Feast Upon The Weak | The Masquerade Is Over | Unquenchable Wolf |
| | | |
| --- | --- | --- |
| Farewell, Chimera Music Box | Farewell, Chimera Zither | Farewell, Horkos Bagpipe |
| | | |
| --- | --- | --- |
| Farewell, Horkos Violin | Wrathful Concision | Willful Concision |
| | | |
| --- | --- | --- |
| Sorrowful Concision | Artful Concision | Aegir's Reach |
| | | |
| --- | --- | --- |
| Anchors Down | Chill Out | Death Metal Triangle |
| | | |
| --- | --- | --- |
| Fish In A Barrel | Get Whale Soon | Off The Hook |
| | | |
| --- | --- | --- |
| The Huntress' Prey | Ran's Bestowment | What Goes Around |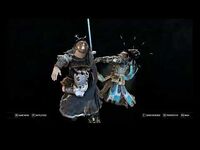 Emotes
Passive Stance
| | | |
| --- | --- | --- |
| The Bard's Instrument | Sword In The Stone | Ready To Rumble |
| | | |
| --- | --- | --- |
| Volcanic Destruction Blast | Jack O Lantern | Leap Of Faith |
| | | |
| --- | --- | --- |
| Penguin Walk | Vortiger's Ascent | Shadows of the Hitokiri |
| | | |
| --- | --- | --- |
| Zhanhu's Fire | Dubious Assessment | One Of Your Shrugs |
| | | |
| --- | --- | --- |
| Howl At The Moon | Confused Warrior | Skeptically Swaying |
| | | | |
| --- | --- | --- | --- |
| Horkos Grimoire | Sylvan Book | Sylvan Meditation | |
| | | |
| --- | --- | --- |
| In ChaRAHcter | Muscular Archer | Muscular Biceps |
| | | |
| --- | --- | --- |
| Message Board | Sylvan Panacea | Selfish Drinker |
| | | |
| --- | --- | --- |
| Chimera Bagpipe | Chimera Music Box | Chimera Violin |
| | | |
| --- | --- | --- |
| Chimera Zither | Horkos Bagpipe | Horkos Music Box |
| | | |
| --- | --- | --- |
| Horkos Violin | Horkos Zither | Odaiko |
| | | |
| --- | --- | --- |
| Raising Glasses | Suspended Gong | The Bodhran |
| | | |
| --- | --- | --- |
| The Field Drum | Suspicious Tumbleweed | Elegant Dance |
| | |
| --- | --- |
| The Bard's Triangle | Gryphon's Fireside |
Fighting Stance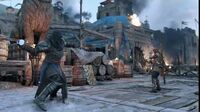 Executions
| | | |
| --- | --- | --- |
| Clarent | Benedicto Militis | Death By Catapult |
Emotes
Passive Stance
| | | |
| --- | --- | --- |
| Down The Hatch! (Knight) | Rub Salt In The Wound (Knight) | Banner Of Arms (Knight) |
Media
Images
Videos
External links
References