For Honor Trailer: The Nobushi (Samurai Gameplay) - Hero Series #10
Play Sound
"Villages far from the safety of our castle still need protection. But how can our armies protect the people when we samurai are so few? Nobushi: elegant, aggressive fighters with the lightest of armors and the most exotic of weapons: the naginata. They seem hardly battle ready, but looks, in this case, are profoundly deceiving. They keep our wilds safe and we don't even know who they are."

Nobushi are a playable hero class in For Honor.
Description
The defenders of the villages too far from the Imperial City for the army to reach. They are elegant fighters with a curious weapon. They have the lightest armor that allows them to move like the wind but cannot take a lot of damage. But don't let their appearance fool you, they are one of the most effective fighters the Samurai have. [1]
Armor
The nobushi appears to be mostly wearing leather and cloth with a gray knee-length jinbaori (Samurai coat) on top. They possess two small sode, Japanese shoulder protectors, on their shoulders.
They wear a mouthless noh mask and an amigasa hat.
Weapon
Naginata
- The naginata is a long weapon consisting of a wooden shaft topped with a curved blade, with a round handguard (
tsuba
) between the blade and shaft. It is an extremely versatile weapon in the hands of a trained warrior and can be used to stab, bash, or hook enemies.
Trivia
The Nobushi's description matches that of the Onna-bugeisha (女武芸者; lit. "female martial warriors"), female warriors, typically of nobility, who were part of the bushi (samurai) class, partaking in battles along samurai men in times of need. They were trained in the use of weapons so that they can protect their household, family and honour during times of war.

While the onna-bugeisha used the same weapons as their male counterpart, the naginata was the most popular weapon-of-choice for them. Being used by many famous onna-bugeisha, the naginata has been the iconic image of female warriors in Japanese pop culture.
"Nobushi" (野武士) roughly translates into English as "Outsider Warrior" or "Civilian Warrior." The word "野" was also used in reference to areas outside the main castle and city.

While the naginata were used by all samurai, they were most often associated with women, as the extended length effectively made up for their general lack of strength and size when fighting katana-armed male opponents.
In comparison to the military half-masks and full-masks worn by some of the other Samurai Heroes, the mask worn by the Nobushi mostly consist of non-military full-masks that originate from a number of Japanese cultural elements, such as masks from Japanese theatre (such as Noh and Kyōgen) and festival masks that are based on animals.

It is also very likely that the masks worn by the Nobushi, particularly the default mask of the Izumi set, are inspired by masks worn in Japanese pop culture media such as anime. As an example, the default masks bears a resemblance to masks worn by certain characters in the ninja adventure series Naruto.
Emotes & Executions
The emote "Thriller" may be a reference to Michael Jackson's song of the same name. The pose Nobushi makes is seen countless times in the song's music video.
"Snapmare" refers to the wrestling move of the same name, which Nobushi performs as the first part of the execution. Nobushi puts her back to her victim, bringing her arm up behind her victim's head, only to then flip them over her shoulder onto their back.
"Haato no Joou" (ハートの女王) translates to "Queen of Hearts."
"Oikase" (おいかせ) translates to "Tailwind."

"Oikase" is an older way of pronouncing "oikaze" (追い風; lit. "chasing wind"), representing the time when the Japanese language had not incorporated sonant marks, known as "dakuten" (濁点) in Japanese, in their written language.
"Oikase" may also be a misspelling of "oikaese" (追い返せ) which can mean "repel" or "drive away," which can be a possible reference to how Nobushi "repels" her foe in the execution.

"Ohisama no Kataki" (お日様の仇) translates to "Adversary of the Sun."
"Kuroyuri no Mai" (黒百合の舞) translates to "Black Lily Dance."
"Momiji no Uchi" (紅葉の打) translates to "Autumn Leaves Strike."

The name of this execution is in reference to a technique from Miyamoto Musashi's Book of Five Rings, where your intent is to strike the opponent's weapon, not the opponent. This should result in either locking blades or even breaking through their guard/disarming the opponent.
Japanese: 其方に死を (Sonata ni shi wo) - English: "I give you death!"
Japanese: 推して参る (Oshite mairu) - English: "Here we go!"
Japanese: これは戦と思っておりません (Kore wa ikusa to omotteorimasen) - English: "I don't believe this to be a battle."
Fighting Style
The Nobushi is a Zone Character as they can strike from a safe distance with their Naginata. They rely on being elusive with their Hidden Stance, poking at their enemies with bleeding attacks that help them deal more damage.
Difficulty: Hard
Good Zone Control
Long Attack Range
Special Capabilities
Able to keep at a distance from opponents with poking strikes
An assortment of bleeding attacks, while dealing more damage to bleeding targets
Hidden Stance allows them to avoid attacks mid-chain
Multitude of recovery cancels through Kick, Dodge Attacks and Viper's Retreat
Perks
Available Perks for the Nobushi can be viewed on the Perks page.
Feats
Tier
1st
2nd
3rd
1
Iron Lungs

Passive | You can still sprint when out of stamina.

Speed Revive

Passive | Rapidly revive fallen teammates

Body Count

Passive | Killing soldier grants you health and stamina.

2
Arrow Strike

Call an arrow strike dealing moderate Damage over an area.

Smoke Bomb

Throw down a bomb that stuns enemies for a moderate duration of time.

Executioner's Respite

Passive | The base healing of Executions are increased by 50%.

3
Second Wind

Recover some of your health.

Long Bow

Fire a long bow for moderate damage. (85 dmg)

Sharpen Blade

Attacks inflict low Damage over time.

4
Stalwart Banner

Nearby allies continuously regain health.

Arrow Storm

Aerial attack that deals medium damage in multiple areas.

Fire Trap

A trap that explodes and creates a fire area of effect
Moveset
General
Renown: Hybrid - Renown is balanced across activities.
Revenge Mode - Boosts Damage and Health. All Attacks are Uninterruptible. Parry and Throws knock enemies down. Attacks are Auto-Parried on activation.
Defense: Static - Your Guard Stance remains active in the direction you designate, even when performing a Dodge.
Hero Specific
Bleeding Light Attack Finisher - The third Light Attack in Poke the Nest is guaranteed and will Bleed the target if the second Light Attack hits. This guaranteed hit does not have to come from the same side as the second.
Undodgeable Heavy Finishers - All Heavy Finishers, including Heavy Attacks from Hidden Stance, are Undodgeable.
Way of the Shark - Nobushi's Bleeds can stack. Her attacks deal extra damage (~20% bonus) when hitting Bleeding enemies.

Bleeding Attacks - Slithering Thrust, Cobra Strike, Viper's Retreat, the second strike of her Zone Attack and the guaranteed Light Attack Finisher for Poke the Nest all inflict Bleed.

Hidden Stance - The Startup has a Dodge property. The Startup of Heavy Openers and Recoveries of all Moves can be cancelled into Hidden Stance.

Hidden Stance Properties - Hidden Stance does not restrict Nobushi's offensive capabilities, allowing her to perform Attacks, Kicks, Dodges and Dodge Attacks from the Stance. However, Nobushi cannot perform defensive moves such as Blocking or Parrying while in Hidden Stance, neither is she able to move normally as she remains stationary.
Hidden Stance Chains - Hidden Stance replaces the first attack of basic attack combos, causing attacks performed from the Stance to be the second in the chain. Heavy Attacks from Hidden Stance are Heavy Finishers; Light Attacks from Hidden Stance are considered as the second Light Chain in Poke the Nest.

Attack Recovery Cancel - Chain Attacks can be followed up by Hidden Stance, Viper's Retreat or Kick.

Kick Follow-up - Kick can be followed up by Hidden Stance, or Cobra Strike by pressing LMB (PC), RB (XB1) or R1 (PS4). Guardbreak throws count as Kicks.

Sidewinder Form - Hits at the opposite of the direction of the Dodge.

Sidewinder Follow-up - Sidewinder Form acts a Heavy Opener, and can be followed up by a Heavy Finisher, Hidden Stance, Viper's Retreat, Kick, Dodge or another Dodge Attack.
Zone Enhanced Sidewinder - Sidewinder has Zone Properties, allowing for the ability to not bounce even when superior blocked.

Cobra Strike Opener - Cobra Strike counts as a chain opener, and can lead into a chain Light or Heavy Finisher.

Cobra Strike Follow-up - Cobra Strike can be followed up by Hidden Stance, a Dodge or another Dodge Attack.

Death Rattle's Approach - You can cancel the recovery of a Forward Dodge with a Heavy Chain Opener from any side.
Viper's Retreat - Cancel the recovery of Viper's Retreat with either Hidden Stance, a Dodge or a Dodge Attack.
Zone Attack - Cancel Zone Attacks after the first strike with B (XB1), E key (PC) or the circle (PS4).

Zone Attack Soft Feints - Zone Attack can also be soft-feinted after the first strike with Kick, Dodge or Heavy Finishers with their respective buttons.
Moves
(From Guard Mode)
| Type | Name | PC | XB1 | PS4 |
| --- | --- | --- | --- | --- |
| | Poke the Nest | LMB, LMB, LMB | RB, RB, RB | R1, R1, R1 |
| | Hiss and Bite | LMB, RMB | RB, RT | R1, R2 |
| | Death Rattle Form | RMB, RMB | RT, RT | R2, R2 |
| | Slithering Thrust (Not in Guard Mode) | ↑ + LMB | LS(press to sprint) + RB | L3(press to sprint) + R1 |
| | Coiling Slash (Not in Guard Mode) | ↑ + RMB | LS(press to sprint) + RT | L3(press to sprint) + R2 |
| | Hidden Stance | C | RS↓ (hold down in direction) | R3↓ (hold down in direction) |
| | Cobra Strike | A or W or D + Space, LMB | LS← or LS↑ or LS→ + A, RB | L3← or L3↑ or L3→ + X, R1 |
| | Cobra Strike Mix Up | MMB ♦, MMB, LMB | X ♦, X, RB | ⬜ ♦, ⬜, R1 |
| | Viper's Retreat | S + LMB | LS↓ + RB | L3↓ + R1 |
| | Kick | LMB or RMB or C (hidden stance), MMB | RB or RT or RS↓ (hidden stance), X | R1 or R2, or R3↓ (hidden stance), ⬜ |
| | Sidewinder Form | A or D + Space, RMB | LS← or LS→ + A, RT | L3← or L3→ + X, R2 |
Equipment
*Star weapon
**Unknown rarity
Armor Styles
Weapon Styles

Defiant Gatekeeper

Konashita
Executions
| | | |
| --- | --- | --- |
| Requiescat In Pace | Rampage Of Ragnarok | Cheaty Flute |
| | | |
| --- | --- | --- |
| Blow Your Own Horn | Harpy Hey Joe | Lute Not |
| | | |
| --- | --- | --- |
| Sylvan Vaporization | Horkos Pharmakos | Sylvan Metamorphasis |
| | | |
| --- | --- | --- |
| Revenant Slayer | Ulfhednar Killer | Shiryo Avenger |
| | | |
| --- | --- | --- |
| Jiangshi Banisher | Minified And Put Aside | Minified And Magnified |
| | | |
| --- | --- | --- |
| Minified And Stomped | Minified And Kicked Away | Wolf Among Sheep |
| | | |
| --- | --- | --- |
| Ilma's Scythe | Cane You Feel It | Brought You A Gift |
| | | |
| --- | --- | --- |
| Chimera Salvation | Blades of the Vanguards | Resounding Defeat |
| | | |
| --- | --- | --- |
| Deadly Hare | Sylvan Detachment | To The Great Beyond |
| | | |
| --- | --- | --- |
| Feast Upon The Weak | The Masquerade Is Over | Unquenchable Wolf |
| | | |
| --- | --- | --- |
| Farewell, Chimera Music Box | Farewell, Chimera Zither | Farewell, Horkos Bagpipe |
| | | |
| --- | --- | --- |
| Farewell, Horkos Violin | Wrathful Concision | Willful Concision |
| | | |
| --- | --- | --- |
| Sorrowful Concision | Artful Concision | Aegir's Reach |
| | | |
| --- | --- | --- |
| Anchors Down | Chill Out | Death Metal Triangle |
| | | |
| --- | --- | --- |
| Fish In A Barrel | Get Whale Soon | Off The Hook |
| | | |
| --- | --- | --- |
| The Huntress' Prey | Ran's Bestowment | What Goes Around |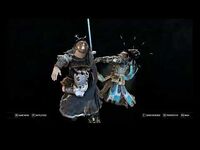 Emotes
Passive Stance
| | | |
| --- | --- | --- |
| The Bard's Instrument | Sword In The Stone | Ready To Rumble |
| | | |
| --- | --- | --- |
| Volcanic Destruction Blast | Jack O Lantern | Leap Of Faith |
| | | |
| --- | --- | --- |
| Penguin Walk | Vortiger's Ascent | Shadows of the Hitokiri |
| | | |
| --- | --- | --- |
| Zhanhu's Fire | Dubious Assessment | One Of Your Shrugs |
| | | |
| --- | --- | --- |
| Howl At The Moon | Confused Warrior | Skeptically Swaying |
| | | | |
| --- | --- | --- | --- |
| Horkos Grimoire | Sylvan Book | Sylvan Meditation | |
| | | |
| --- | --- | --- |
| In ChaRAHcter | Muscular Archer | Muscular Biceps |
| | | |
| --- | --- | --- |
| Message Board | Sylvan Panacea | Selfish Drinker |
| | | |
| --- | --- | --- |
| Chimera Bagpipe | Chimera Music Box | Chimera Violin |
| | | |
| --- | --- | --- |
| Chimera Zither | Horkos Bagpipe | Horkos Music Box |
| | | |
| --- | --- | --- |
| Horkos Violin | Horkos Zither | Odaiko |
| | | |
| --- | --- | --- |
| Raising Glasses | Suspended Gong | The Bodhran |
| | | |
| --- | --- | --- |
| The Field Drum | Suspicious Tumbleweed | Elegant Dance |
| | |
| --- | --- |
| The Bard's Triangle | Gryphon's Fireside |
Fighting Stance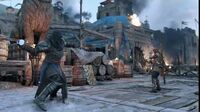 Executions
| | | |
| --- | --- | --- |
| Futsunomitama | Ware Shinaba | Death By Arrows |
Emotes
Passive Stance
| | | |
| --- | --- | --- |
| Down The Hatch! (Samurai) | Rub Salt In The Wound (Samurai) | Banner Of Arms (Samurai) |
Media
Images
Videos
External links
References