For Honor Trailer: The Lawbringer (Knight Gameplay) - Hero Series #12
Play Sound
"Where order has broken down, where cruelty and lawlessness rule, Lawbringers are justice. They go wherever they are needed, and they come prepared. Their armor has no equal, its construction a secret of their order. And they carry the most versatile weapon ever invented: the poleaxe. Pray that you do not need them. And when they arrive, pray that you have done no wrong."

Lawbringers are a playable hero class in For Honor.
Overview
The Lawbringers are justice in Ashfeld. They enforce the laws and dispense punishment and retribution without mercy. Their armor is without equal, their signature weapon a grim reminder of the ultimate punishment for lawlessness. They will go wherever they are needed – pray that you are on the right side when they arrive.[1]
Armor
Lawbringers wear full body plate armor with mail underneath. Their default helmet bears resemblance to a close helm with a large visor. There are emblems embroidered on the front and back and a medallion hanging from a chain can be seen in the front.
Weapon
Poleaxe - The poleaxe is one of the most versatile weapons ever made. The axe has a sharp end for slicing and a blunt end for bashing and the spike on top that makes it perfect for thrusting attack.
Trivia
The plate armor of the Lawbringer bears many similarities to 16th century Spanish plate armor.

Of all the knight classes, the Lawbringer is the only one that wears full plate armor.
The pauldrons possess sword breakers, an attribute of many 16th century pauldrons.

Contrary to the Lawbringer's trailer, the historical Poleaxe is a highly specialized anti-armor weapon, a trait rendered moot by the game itself.
The Lawbringer, when on top stance in guard mode, has the butt (or cue) facing toward the opponent. This technique could have been done to avoid getting the head of the poleaxe tangled with the opponent's weapon.

The cue also tended to be lighter and significantly more nimble than the weighty axe head, ideal for the confines of hand-to-hand combat.
This also allowed the hammer- or axe-head to be kept in a ready position throughout combat.

The attack chain combo "Ruat Caelum" is a phrase taken from the Latin legal phrase "Fīat jūstitia ruat cælum" which translates to "Let justice be done, though the heavens fall." The phrase signifies the idea that justice must be realized no matter the cost.

The first part of the phrase, "Fiat justitia," is more commonly used than the latter part in modern usage.

The execution "Dura Lex Sed Lex" is in reference to the phrase "dūra lēx, sed lēx" which is a proverb/phrase as part of the Brocard, a legal maxim in Latin.

The phrase can be translated as "The law is harsh, but it is the law."

The name of the execution "Sto Pro Veritate" is the motto of Clan Guthrie and translates to "I stand for truth."
The Lawbringer is one of two Heroes (the other being the Shaman) who has executions that can have their animation cancelled midway, manually by the player. This is because these animations have early execution confirmation points, and are segmented into two parts, with the second part occuring after the execution point and being interruptible by the Player. The following are the executions with this quality:

Oh Come On!

"Oh Come On!" is unique even among these executions in that execution completes very early on, happening near the start of the execution instead of near the end.

As a result, this execution can act like a medium length execution with the healing benefit of a long execution; medium length executions are between 4 to 5 seconds long and heal for 35 health, whereas executions longer than 5 seconds are counted as "long" and heal for 50 health. This is on top of the execution time being at 2.7 seconds, the fastest among these interruptible executions.

Knock Knock

Lawbringer and other related characters (Gryphon and Holden Cross) are voiced by Evan Buliung.
The execution "Tene Cursum" translates to "hold the course" and is in reference to the quote "Ventis secundis, tene cursum," which translates to "the winds are favorable, hold the course."
Lawbringer's medallion has the image of a cross, two poleaxes forming an X and a skull. This is likely a reference to the Holy Inquisition.
Latin: "Ad mortem, inimīcus!" - English: "To death, (my) enemy!"
Latin: "Nōlo superstites!" - English: "I refuse survivors!"
Latin: "Nōn effugere potes!" - English: "You cannot escape!"
Latin: "Nōn recedens es!" - English: "You are not escaping."
Latin: "Tu bene te ipse defendisti!" - English: "You've defended yourself well."

Dura Lex Sed Lex Execution
References
Fighting Style
The Lawbringer combines the features of a Heavy and a Vanguard Hero, having a great range with their halberd while being an effective counter-attacker. They have a vast variety of attacks they can use after a parry, and a number of tools in their basic kit to keep the pressure on.
Difficulty: Hard
Excellent Counter-Attacker
Good at Disabling Enemies
Special Capabilities
A number of Top Attacks that stun enemies
Bashes and Unblockable Heavy Finishers apply constant pressure
A multitude of counter-attack options from Parrying
Perks
Available Perks for the Lawbringer can be viewed on the Perks page.
Feats
Tier
1st
2nd
3rd
1
Conqueror

Passive | Capture and upgrade control zones faster.

Harsh Judgment
Reduce target's stamina for a short moment

Body Count

Passive | Killing a soldier grants you health and stamina.

2
Righteous Deflection
Passive | Parry to gain high damage reduction for a short time

Fiat Lux ("let there be light")

Throw a flash grenade that blinds enemies for a few seconds.

Juggernaut

Trade movement speed for better defense.

3
Protected Revive
Passive | Your revive grants shields to allies

Pugno Mortis ("fist of death")

Throw an explosive projectile dealing damage over an area.

Unlocked at level 17

Second Wind

Recover some of your health.

4
Igneus Imber ("fiery storm")
Several grenades that deal moderate damage over an area

Catapult

Call a catapult strike over an area.

Regenerate

Passive | Regenerates your health when out of combat.
Moveset
General
Renown: Hybrid - Renown is balanced across activities.
Revenge Mode - Boosts Damage and Health. All Attacks are Uninterruptible. Parry and Throws knock enemies down. Attacks are Auto-Parried on activation.
Defense: Static - Your Guard Stance remains active in the direction you designate, even when performing a Dodge.
Hero Specific
Impaling Stab - A successful Impaling Charge or Impaling Riposte will pin the target as Lawbringer pushes them back. Holding RMB (PC), RT (XB1) or R2 (PS4) will extend the duration of the impale. Impaling Charge will always come from the right side.
Special Property Attacks:

Enhanced Side Light Attacks - Side Light Attacks are not interrupted if blocked. Does not apply when blocked by a Superior Block.
Stunning Top Heavy Attacks - Top Heavy Attacks, including Blind Justice, will stun briefly and drain stamina from the target. A Stunned opponent will experience visual disorientation and cannot see their guard UI.
Unblockable Heavy Finisher - Heavy Finishers are all Unblockable.

The Long Arm - The Long Arm is bash which, upon landing, will pin the target, proceeding to lift them up and over behind Lawbringer. The target will be knocked down at the end of the move.
Shove - All Shove Attacks initiates Chains as a Chain Opener, leading into any Second Attack of Lawbringer's Chains.

Shove into the Long Arm - Shove can be followed up with the Long Arm. Input for Long Arm can be preemptively buffered while attempting a Shove.
Shove Mix Up - After any Chain Heavy attack (hit, blocked or miss), input MMB (PC), X (XB1) or 🔲 (PS4) to perform Shove.

Blind Justice Finisher - Blind Justice counts as a Top Heavy Finisher, therefore being Unblockable, causing stun and is able to chain into Swift Justice or Shove Mix Up.

Swift Justice Finisher - Input LMB (PC), RB (XB1) or R1 (PS4) after any Top Heavy Finisher, including Blind Justice, for a guaranteed hit that ends the chain.

Riposte Chain Openers - Light Riposte can act as a Chain Opener, leading into any Second Attack of Lawbringer's Chains.
Moves
(From Guard Mode)
| Type | Name | PC | XB1 | PS4 |
| --- | --- | --- | --- | --- |
| | Book, Chapter and Verse | LMB, RMB,LMB | RB, RT, RB | R1, R2, R1 |
| | Judge, Jury and Executioner | LMB, RMB, RMB | RB, RT, RT | R1, R2, R2 |
| | Ruat Caelum | RMB, RMB, RMB | RT, RT, RT | R2, R2, R2 |
| | Swift Justice | RMB, LMB,RMB | RT, RB, RT | R2, R1, R2 |
| | Truth in Action | RMB, RMB, LMB | RT, RT, RB | R2, R2, R1 |
| | Impaling Charge (Not in Guard Mode) | Shift + RMB | LS↓ + RT | LS↓ + RT |
| | Impaling Riposte | , ← or → + RMB | , RS← or RS→ + RT | , RS← or RS→ + R2 |
| | Blind Justice | , ↑ + RMB | , RS↑ + RT | , RS↑ + R2 |
| | Light Riposte | , LMB | , RB | , R1 |
| | Make Way | , LMB + RMB | , RB + RT | , R1 + R2 |
| | The Long Arm | S + MMB | LS↓ + X | LS↓ + ⬜ |
| | Shove | A or W or D, + Space, MMB | LS← or LS↑ or LS→ + A, X | LS← or LS↑ or LS→ + X, ⬜ |
| | Shove Mix Up | RMB, MMB | RT, X | R2, ⬜ |
Equipment
*Star weapon
**Rarity unknown
Armor Styles
Weapon Styles

Elegant Moresk

Defiant Dignitary
Executions
| | | |
| --- | --- | --- |
| Requiescat In Pace | Rampage Of Ragnarok | Cheaty Flute |
| | | |
| --- | --- | --- |
| Blow Your Own Horn | Harpy Hey Joe | Lute Not |
| | | |
| --- | --- | --- |
| Sylvan Vaporization | Horkos Pharmakos | Sylvan Metamorphasis |
| | | |
| --- | --- | --- |
| Revenant Slayer | Ulfhednar Killer | Shiryo Avenger |
| | | |
| --- | --- | --- |
| Jiangshi Banisher | Minified And Put Aside | Minified And Magnified |
| | | |
| --- | --- | --- |
| Minified And Stomped | Minified And Kicked Away | Wolf Among Sheep |
| | | |
| --- | --- | --- |
| Ilma's Scythe | Cane You Feel It | Brought You A Gift |
| | | |
| --- | --- | --- |
| Chimera Salvation | Blades of the Vanguards | Resounding Defeat |
| | | |
| --- | --- | --- |
| Deadly Hare | Sylvan Detachment | To The Great Beyond |
| | | |
| --- | --- | --- |
| Feast Upon The Weak | The Masquerade Is Over | Unquenchable Wolf |
| | | |
| --- | --- | --- |
| Farewell, Chimera Music Box | Farewell, Chimera Zither | Farewell, Horkos Bagpipe |
| | | |
| --- | --- | --- |
| Farewell, Horkos Violin | Wrathful Concision | Willful Concision |
| | | |
| --- | --- | --- |
| Sorrowful Concision | Artful Concision | Aegir's Reach |
| | | |
| --- | --- | --- |
| Anchors Down | Chill Out | Death Metal Triangle |
| | | |
| --- | --- | --- |
| Fish In A Barrel | Get Whale Soon | Off The Hook |
| | | |
| --- | --- | --- |
| The Huntress' Prey | Ran's Bestowment | What Goes Around |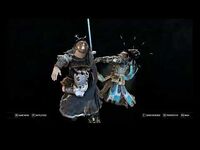 Emotes
Passive Stance
| | | |
| --- | --- | --- |
| The Bard's Instrument | Sword In The Stone | Ready To Rumble |
| | | |
| --- | --- | --- |
| Volcanic Destruction Blast | Jack O Lantern | Leap Of Faith |
| | | |
| --- | --- | --- |
| Penguin Walk | Vortiger's Ascent | Shadows of the Hitokiri |
| | | |
| --- | --- | --- |
| Zhanhu's Fire | Dubious Assessment | One Of Your Shrugs |
| | | |
| --- | --- | --- |
| Howl At The Moon | Confused Warrior | Skeptically Swaying |
| | | | |
| --- | --- | --- | --- |
| Horkos Grimoire | Sylvan Book | Sylvan Meditation | |
| | | |
| --- | --- | --- |
| In ChaRAHcter | Muscular Archer | Muscular Biceps |
| | | |
| --- | --- | --- |
| Message Board | Sylvan Panacea | Selfish Drinker |
| | | |
| --- | --- | --- |
| Chimera Bagpipe | Chimera Music Box | Chimera Violin |
| | | |
| --- | --- | --- |
| Chimera Zither | Horkos Bagpipe | Horkos Music Box |
| | | |
| --- | --- | --- |
| Horkos Violin | Horkos Zither | Odaiko |
| | | |
| --- | --- | --- |
| Raising Glasses | Suspended Gong | The Bodhran |
| | | |
| --- | --- | --- |
| The Field Drum | Suspicious Tumbleweed | Elegant Dance |
| | |
| --- | --- |
| The Bard's Triangle | Gryphon's Fireside |
Fighting Stance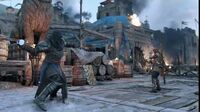 Executions
| | | |
| --- | --- | --- |
| Clarent | Benedicto Militis | Death By Catapult |
Emotes
Passive Stance
| | | |
| --- | --- | --- |
| Down The Hatch! (Knight) | Rub Salt In The Wound (Knight) | Banner Of Arms (Knight) |
Media
Images
Videos
External links
References