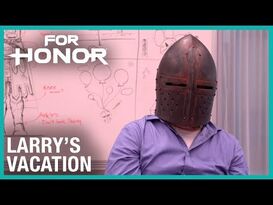 The Larry's Vacation was a mini-event in For Honor taking place during July 25 through the August 1st, 2019.
Overview
Edit
Larry the Warden is For Honor's "Execution Guy", who can be seen in the For Honor in-game menus when previewing the executions. The naming of this character stems from the For Honor community and we are proud to bring him to life.
From July 25th to August 1st, Larry the Warden will take his first vacation from executions and his "co-workers" will replace him in-game. During this time, all other For Honor heroes will be executed while wearing a paper mask with a Warden helmet on it.
Larry's Vacation Diary
Edit
"I decided to take a vacation and cool off from the execution grind. I thought it would be neat to start a vacation blog so that you guys can see what I'm up to for the week.
Today is my first official day off so I went for a scenic bike ride!"
"Day 2 of my vacation, and I'm not used to seeing so much sun. I spent the day at the beach covered in SPF 100."
"Today, I took some time for **self-care.** I put my years of executions behind me and tried yoga!"
"What's better than bubbles? Blowing bubbles! Why did no one tell me about this before? Why can't I be Larry the Bubble Guy?"
"In my journey to discover the simple pleasures of life, I've turned to the joys of reading. Yet another activity that's much more relaxing than executions."
"Nothing says "vacation" like taking selfies with a beautiful sandcastle."
"Who said Larry the Warden can't sing? …I mean, maybe you did. At least I'm trying new things! Life's not just about executions."
August 1
Edit
"I'm feeling so refreshed from my vacation that I miss doing executions. I never thought I'd say that, but a week away makes you feel nostalgic. Now that I'm back, I can't wait to show you more executions!"
The events of Larry's Vacation were captured and updated on the Ubisoft blogs, as seen here.
Community content is available under
CC-BY-SA
unless otherwise noted.