"We... have waited. For years, we have bled. Devoted our bodies to the great cause!
Now the earth stirs; a rumbling calls! Jormungandr, RISE!! Bring your wrath! Ragnarok comes!"

The Jormungandr is a playable hero class in For Honor.
Overview
The Jormungandr rise for the Great Battle of Ragnarok.
Formed after the Cataclysm, the Jormungandr drew their numbers from those rejected by the Vikings. Skin deformities swept the north in the post-cataclysm. The victims bonded from their shared deformities, a snake-like scaling. They named themselves for the serpent Jormungandr that, according to Viking beliefs, fatally poisoned Thor.
They've grown into an insular dark sect that believes itself risen from the fall of Thor before Ragnarok. Their rite of passage is a deadly ritual that honors their painful origins. Their skin is burned with acid to harden it with serpent scales. Their limbs are crushed by a sacred hammer. Many die from the ritual. The survivors are branded with the War Hamarr to mark them as mighty Jormungandr warriors.
A Jormungandr is a terrifying sight. They fight to crush the weak before the coming of Ragnarok. They believe only the most worthy must remain for the Great Battle.
Armor
The Jormungandr are feral warriors who wear their devotion to the Great Serpent on their scarred bodies. Some even whisper they paint their body with the blood and ground bones of their victims, and use human bones and leather for clothing.
Together with the cloth tunic and pants that they wear, they wear fur pelt around their neck, with nets and fishhooks decor to remind themselves of the crashing waves and the Great Serpent. They run bare feet, while their arms are guarded with leather bracers over bandages.Their face are pierced with ornaments in dedication to their cult.
Weapon
War Hammer - A blunt weapon that utilizes a large striking head in conjunction with a handle that can be used one handed or two handed. Expert use of this weapon needs strength, but also the ability to use its weight-head's momentum for devastating strikes and explosive knockback.
Trivia
Jörmungandr (Old Norse for "huge monster") is a mythic sea serpent that grew so large that it was able to surround the earth and grasp its own tail. As a result, it received the name of the Midgard Serpent or World Serpent. It is foretold that when it releases its tail, Ragnarök (the Norse equivalent to Judgement Day) will begin.

According to the Prose Edda, Odin took Loki's three children by Angrboða — the wolf Fenrir, Hel, and Jörmungandr — and tossed Jörmungandr into the great ocean that encircles Midgard. This may be why there is the presence of the ocean in Jormungandr's reveal trailer, their backstories, their release map Storr Stronghold, along with the presence of fishhooks and nets on their outfits.
Hulda may be a reference to one of the King's Sagas, Hulda-Hrokkinskinna, with "Hulda" meaning "the hidden manuscript."

Official Ubisoft sources call Jormungandr's weapon "a war hamarr." The term "hamarr" is Old Norse for "hammer," but also for stone or a steep cliff.
The skin disorder that initially bonded the Jormungandr cult may be Ichthyosis, a disorder that causes dry, scaly skin.
Following the trend of Year 3 Heroes, Jormungandr's Ornament is located on the shoulders instead of the head, making them the third Hero to have such after Black Prior and Hitokiri.
The name "Jotunn" used throughout Jormungandr's moveset is in reference to mythical entities that are different from gods and other beings such as dwarves and elves. They are ambiguously defined, though they have been called by other names such as risi, thurs and troll.
Quotes
Icelandic: "Heiðingi!" - English: "Infidel!"
Icelandic: "Óverðugur!" - English: "Unworthy!"

Jotunn Farewell & Jotunn Gift

Icelandic: "Leggðu þig!" - English: "Take a nap!"

Jotunn Surge on Exhausted Enemies

Icelandic: "Engin miskunn!" - English: "No mercy!"
Icelandic: "Valhöll!" - English: "Valhalla!"
Icelandic: "Burt!" - English: "Away!"
Icelandic: "Við hamar Þórs!" - English: "By Thor's Hammer!"
Icelandic: "Ragnarök!" - English: "Ragnarok!"
Icelandic: "Takk fyrir!" - English: "Thank you!"
Icelandic: "Komið að skuldadögum!" - English: "Time for payback!"
Icelandic: "Við skegg Óðins!" - English: "By Odin's beard!"
Icelandic: "Þu ert seins!" - English: "You are late!"
Icelandic: "Nú berjumst við!" - English: "Now we fight!"
References
Fighting Style
The Jormungandr are fearsome warriors who excel at whittling the opponent's stamina. Wielding the mighty war hamarr, they cull the weak with their unbalancing attacks and lay the hammer down on those who cannot remain standing.
Difficulty: Medium
Disabler, Harasser
Unrelenting Stamina Bully
Special Capabilities
Assortment of bashes to deplete Stamina, leading to High Damage on opponents who are Exhausted
Enhanced Lights and Uninterruptible Heavy Openers
Undodgeable Light Finishers, together with Unblockable Heavy Finishers that knocks back opponents
Perks
Available Perks for the Jormungandr can be viewed on the Perks page.
Feats
Tier
1st
2nd
3rd
1
Jotunn Salve

Passive | Heal some health when you hit an enemy with any Jotunn moves.

Body Count

Passive | Killing soldier grants you health and stamina.

Tireless

Passive | Lose stamina at a lower rate.

2
Hamarr's Favor

Passive | Receive a temporal shield when you land Hamarr Slam on an enemy Hero.

Centurion's March

Gain unlimited stamina for a short time

Righteous Deflection

Passive | Parry to gain high damage reduction for a short time.

3
Zealot's Bolt

Throw a projectile that deals minor damage, knocks back and depletes all Stamina

Punch Through

Passive | Deal Damage on Blocked Attacks

Hard to Kill

Passive | Losing Health increases your Damage reduction

4
Twilight of the Gods

Launch a powerful attack that sunders the ground, dealing minor damage and knocking down all nearby enemies.

Scout

All enemies are marked for death and show up on radar.

Auto Revive

Passive | Periodically, automatically revive upon death unless executed.
Moveset
General
Renown: Heavy - Earn more Renown by assisting or saving Heroes, and holding objectives to unlock your feats in a match.
Revenge Mode - Boosts Damage and Health. All Attacks are Uninterruptible. Parry and Throws knock enemies down. Attacks are Auto-Parried on activation.
Defense: Static - Your Guard Stance remains active in the direction you designate, even when performing a Dodge.
Hero Specific
Enhanced Light Attacks - Chain Lights are enhanced, thus are not interrupted if blocked.

Undodgeable Light Finishers - Light Finishers are also Undodgeable.

Uninterruptible Openers - Serpent Smite and Heavy Openers have Uninterruptible.

Unblockable Heavy Finishers - Heavy Finishers are also Unblockable.

Knockback Moves - Side Heavy Finishers will knock back enemies away from the side the attack came from. Jotunn Farewell and Jotunn Grudge also have knock back.

Unbalancing Moves - Heavy Finishers, Jotunn Farewell, Jotunn Surge, Jotunn Grudge, and Jotunn Gift will unbalance enemies who are Exhausted.
Hamarr Slam - Jormungandr can perform a Heavy near an Unbalanced enemy to perform Hamarr Slam, dealing high damage and fully refreshes both Jormungandr and the target's stamina. This move can be performed with Serpent Smite.
Hamarr Slam Pin - If Hamarr Slam is performed on an opponent who is early in their Knock Down, Hamarr Slam will briefly pin them.
Hamarr Slam on Special Knockdowns - Certain knockdowns will not count as actual knockdowns for the purpose of initiating Hamarr Slam. The list of knockdowns with this property is as follows: Gryphon's Dauntless Chase, Shaman's Predator's Mercy, Shugoki's Demon's Embrace and Demon Ball and Nuxia's Jade Ballet.

Serpent Smite Cancel - Cancel Serpent Smite with B (XB1), ◯ (PS4) or E (PC) or feint with MMB (PC) or X (XB1) or ⬜ (PS4) to perform a guardbreak.
Jotunn Gift Follow-ups - Upon successfully hitting an enemy with Jotunn Gift, Jormungandr can chain with a Zone Attack or a Chain Opener. Light Openers and Zone Attack are guaranteed.

Jotunn Gift Throw - Jotunn Gift does not cancel the Guardbreak that was initiated on the Target, allowing Jormungandr to throw them. If Jormungandr does not take an action, the target will automatically counter-guardbreak.

Chain Openers - Serpent Smite, Jotunn Surge, Zealot's Stride, Jotunn Grudge and Zone Attack function as Chain Openers.
Moves
(From Guard Mode)
| Type | Name | PC | XB1 | PS4 |
| --- | --- | --- | --- | --- |
| | Midgard Burst | LMB, LMB | RB, RB | R1, R1 |
| | Midgard Smite | LMB, RMB | RB, RT | R1, R2 |
| | Utgard Burst | RMB, LMB | RT, RB | R2, R1 |
| | Utgard Smite | RMB, RMB | RT, RT | R2, R2 |
| | Jotunn Farewell | MMB after any Opener, except Jotunn Surge or Jotunn Grudge | X after any Opener, except Jotunn Surge or Jotunn Grudge | ⬜ after any Opener, except Jotunn Surge or Jotunn Grudge |
| | Serpent Smite | W + Space, RMB | LS↑ + A, RT | LS↑ + X, R2 |
| | Jotunn Surge | S + MMB | LS↓ + X | LS↓ + ⬜ |
| | Zealot's Stride (not in guard mode) | ↑ + RMB | LS↓ + RT | LS↓ + R2 |
| | Jotunn Grudge | , MMB | , X | , ⬜ |
| | Jotunn Gift | MMB ♦, LMB | X ♦, RB | ⬜ ♦, R1 |
Equipment
*Star Weapon
**Rarity unknown
| | | |
| --- | --- | --- |
| | Armor Styles | Weapon Styles |
| | | |
| | | |
| | | |
| | | |
| | | |
| | | |
| | | |
Executions
| | | |
| --- | --- | --- |
| Requiescat In Pace | Rampage Of Ragnarok | Cheaty Flute |
| | | |
| --- | --- | --- |
| Blow Your Own Horn | Harpy Hey Joe | Lute Not |
| | | |
| --- | --- | --- |
| Sylvan Vaporization | Horkos Pharmakos | Sylvan Metamorphasis |
| | | |
| --- | --- | --- |
| Revenant Slayer | Ulfhednar Killer | Shiryo Avenger |
| | | |
| --- | --- | --- |
| Jiangshi Banisher | Minified And Put Aside | Minified And Magnified |
| | | |
| --- | --- | --- |
| Minified And Stomped | Minified And Kicked Away | Wolf Among Sheep |
| | | |
| --- | --- | --- |
| Ilma's Scythe | Cane You Feel It | Brought You A Gift |
| | | |
| --- | --- | --- |
| Chimera Salvation | Blades of the Vanguards | Resounding Defeat |
| | | |
| --- | --- | --- |
| Deadly Hare | Sylvan Detachment | To The Great Beyond |
| | | |
| --- | --- | --- |
| Feast Upon The Weak | The Masquerade Is Over | Unquenchable Wolf |
| | | |
| --- | --- | --- |
| Farewell, Chimera Music Box | Farewell, Chimera Zither | Farewell, Horkos Bagpipe |
| | | |
| --- | --- | --- |
| Farewell, Horkos Violin | Wrathful Concision | Willful Concision |
| | | |
| --- | --- | --- |
| Sorrowful Concision | Artful Concision | Aegir's Reach |
| | | |
| --- | --- | --- |
| Anchors Down | Chill Out | Death Metal Triangle |
| | | |
| --- | --- | --- |
| Fish In A Barrel | Get Whale Soon | Off The Hook |
| | | |
| --- | --- | --- |
| The Huntress' Prey | Ran's Bestowment | What Goes Around |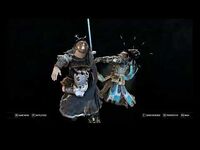 Emotes
Passive Stance
| | | |
| --- | --- | --- |
| The Bard's Instrument | Sword In The Stone | Ready To Rumble |
| | | |
| --- | --- | --- |
| Volcanic Destruction Blast | Jack O Lantern | Leap Of Faith |
| | | |
| --- | --- | --- |
| Penguin Walk | Vortiger's Ascent | Shadows of the Hitokiri |
| | | |
| --- | --- | --- |
| Zhanhu's Fire | Dubious Assessment | One Of Your Shrugs |
| | | |
| --- | --- | --- |
| Howl At The Moon | Confused Warrior | Skeptically Swaying |
| | | | |
| --- | --- | --- | --- |
| Horkos Grimoire | Sylvan Book | Sylvan Meditation | |
| | | |
| --- | --- | --- |
| In ChaRAHcter | Muscular Archer | Muscular Biceps |
| | | |
| --- | --- | --- |
| Message Board | Sylvan Panacea | Selfish Drinker |
| | | |
| --- | --- | --- |
| Chimera Bagpipe | Chimera Music Box | Chimera Violin |
| | | |
| --- | --- | --- |
| Chimera Zither | Horkos Bagpipe | Horkos Music Box |
| | | |
| --- | --- | --- |
| Horkos Violin | Horkos Zither | Odaiko |
| | | |
| --- | --- | --- |
| Raising Glasses | Suspended Gong | The Bodhran |
| | | |
| --- | --- | --- |
| The Field Drum | Suspicious Tumbleweed | Elegant Dance |
| | |
| --- | --- |
| The Bard's Triangle | Gryphon's Fireside |
Fighting Stance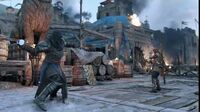 Executions
| | | |
| --- | --- | --- |
| Dainslief | Sjaund | Death By Spears |
Emotes
Passive Stance
| | | |
| --- | --- | --- |
| Down The Hatch! (Viking) | Rub Salt In The Wound (Viking) | Banner Of Arms (Vikings) |
Media
Images
Model
Stills
Videos
References