For Honor: Season 3 - The Highlander Gameplay Trailer
"Like the rocks that break the waves, Highlanders have weathered many storms. Ancient alliances kept their lands but their owes have come due. They join our war out of obligation but they are not to be underestimated. Their claymore is the heaviest sword ever wielded. It can cut down even the most armored warrior. The elements battering their lands have made them strong. War has made them deadly."

Highlander are a playable hero in For Honor.
The Highlander is not a typical hard-headed Viking. Ancient alliances and obligations have pulled them into this war, otherwise they would have remained guarding their homelands. They can stay in a defensive posture and stand toe to toe with the fiercest of warriors, weathering the flurry of blows with their claymore... until they see a momentary weakness and then they pounce, displaying their true strength and speed revealed with sweeping strikes and heavy blows. They are never going to be the first to jump into battle, as they will plan each move and always be ready to counter. The mountains have made them hard and resilient; war has made them deadly.
Highlanders have most of their armor covered by their clothes but some scale armor can be seen. They have a fur cape and a metal head band. Their pauldrons and greaves are made of leather and they wear a gray kilt.
Claymore - The heaviest and longest sword on the battlefield. Cuts through armor.
Though a part of the Viking faction, the Highlander appears to hail from Scotland and only assists the Vikings due to ancient alliances between the two people.
The Claymore in game is inspired by the real life Highland Claymore, a two-handed Scottish sword.

While the official description says the Claymore is capable of cutting through armor, actual Claymore swords are unable to cut through armor.
While the term 'Claymore' is often used to talk about the heavy two-handed sword, 'Claymore' is also the name of a Scottish variant of the Basket-Hilted sword.
It is worth noting that the manner in which the Highlander wields the Claymore, especially in Defensive Stance, properly utilizes one's center of balance, which is necessary to wield such a large blade, even with superhuman strength.

Before Marching Fire, the Highlander alongside the Shaman were the only heroes in For Honor to not have some kind of headgear or mask that obscures their face.
Description errors:

Originally, the official website mistakenly said "the Highlander is not a 'head'-headed Viking." This error was fixed afterwards.
The names of the Highlander's executions and the Gladiator's were switched at release but was corrected later on.

The phrase, "Dunmaghlas," said by the Highlander when he enters his Offensive Stance, is a Scottish war cry that can be traced back to the Highland Scottish clans.

"Touch not this cat" is a common motto motif for Highland clans, one of such being the MacGillivray who is mistaken for having the motto of "Touch not the cat but a glove," which actually belongs to multiple clans, such as the Macpherson and Mackintosh.

One of the writing staff for the game is a descendant of the MacGillivray.[1]

Dunmaghlas (also written as "Dunmaglass") also is the name of an estate and multiple chief-castles in Scotland.
The phrase can be understood in two ways: as a motto or as a battle-cry dedicated to the Clan Seat. The two are not one and the same.

As a motto, the phrase can be translated as "touch not the cat when its claws are out," or to put it in the context of the Highlander, "Do not try to challenge a Highlander that is ready to fight."
As a battle-cry, it refers to Dunmaglass as the Clan Seat, the home of the Clan. A Dun means a fort, while maglass is very likely an Anglicization of a Gaelic word).

The Highlander's current voice actor is Ólafur Darri Ólafsson.
Gaelic: Dunmaghlas! – English: "Touch not the cat but a glove."

Entering offensive stance

Icelandic: Kryfja Hann! – English: "Dissect him!"

Hitting with an offensive heavy

Icelandic: Til Orrustu! – English: "To battle!"
Icelandic: Fjallabrjótur!– English: "Mountain breaker!"
Icelandic: Dauðinn blasir við þér!– English: "You face death!"

Caber Toss & Fatal Toss Emote
Icelandic: Nú ertu dauður– English: "Now you're dead."

Intent To Behead Execution

Icelandic: Kjúklingur á teini!– English: "Chicken on a skewer!"
Icelandic: Áfram með ykkur!– English: "Forward!"
Icelandic: Jæja!– English: "Well then."

Last Stand Emote, Oorah! Emote

Icelandic: Andskotans djöfull– English: "Bloody hell."
Icelandic: Fyrirgefðu mér- English: "Forgive me."

Moment of Reflection Emote

Icelandic: Hei, þú!- English: "Hey, you!"
Icelandic: Nú deyrðu- English: "Now you die."

Moment of Reflection Emote

Icelandic: Allt of þungt- English: "Way too heavy."
Icelandic: Ég vissi ekki að geirfuglinn gæti flogið- English: "I didn't know the Great Auk could fly."

Par 5 Emote
A Great Auk, "geirfugl", is a large flightless bird once common to Icelandic nature but exctinct since 1844.

Icelandic: Hann er svo hættulegur, hann er svo sterkur- English: "He's so dangerous, he's so strong."
Icelandic: Andskotans sverð- English: "Damn sword."
Icelandic: Dýrabogi– English: "Animal bow."
Icelandic: Ber er hver að baki nema sér bróður eigi– English: "Bare is your back unless a brother you have."
Icelandic: Fljúðu– English: "Fly."
Icelandic: Einbeita sér– English: "Focus."
Icelandic: Nú er ég reiður - English: "Now I am angry."
Icelandic: Fáum okkur hressingu!– English: "Let's have some refreshment!"
References
Edit
Fighting Style
Edit
The Highlander is a stoic warrior with exceptional strength and an almost infinite patience. He stands like a rock weathering a furious storm but can strike like lightning when an opening presents itself.
Difficulty: Hard
Long Range
Hard Hitter
Special Capabilities
Edit
Offensive Form's unblockable heavy attacks can be infinitely chained
Offensive Form's unblockable melee attacks knock opponents around
Defensive Form's counter-attacking options allow Highlander to dictate the pace
Tier
1st
2nd
3rd
1
Rush

Trigger to gain movement speed for a short duration.

Body Count
Passive | Killing soldier grants you health and stamina.

Fast Recovery


Passive | Stamina regenerates faster.

2
Bear Trap

Medium damage trap that stops victims in their tracks.

Inspire
Allies deal more Damage, soldiers fight faster.

Winner's Advantage
Passive | Gain a temporary buff after a successful attack.

3
Second Wind

Recover some of your health.

Long Bow

Fire a long bow for moderate damage. (85 dmg)

Fury

Raise speed, attack and defense stats for a short duration.

4
Spear Storm
Aerial Attack that deals medium Damage in multiple areas

Fire Flask

Throw a projectile creating a fire area of effect.

Champion's Aura
Gain an aura which heals you and nearby allies
Hero Specific
Edit
Renown - Renown is balanced across activities.
Revenge Mode - Boosts Damage and Health. All Attacks are Uninterruptible. Parry and Throws knock enemies down. Attacks are Auto-Parried on activation.
Offensive Form and Defensive Form - Highlander's Guard Mode has two forms: Defensive Form has access to Block, Parry, and normal Guardbreak. Offensive Form has access to Unblockable attacks.
Defensive Form - The Form the Highlander takes normally, focusing primarily on a stance for defense and trading.
Defensive Form Super Armor - Heavy Chain Attacks, Celtic Curse, and Light Non-Opener Attacks have Super Armor.
Defensive Form Light Openers - Light Opener Attacks have Crushing Counterstrike properties (Superior Block, plus Unblockable and enhanced damage.upon countering). Time well to counter attack.
Entering Offensive Form - Hold (RMB, RT, R2) to enter Offensive Form. Continue to Hold (RMB, RT, R2) to remain in Offensive Form.
Fast Flow - Hold RMB (PC), RT (XB1), R2 (PS4) after a Parry, Guardbreak Throw, or after any Attack other than Defensive Form's Chain Finisher to immediately enter Offensive Form.
Fast Flow during Guardbreak - Fast Flowing when Guardbreaking a target will not cause the target to counter guardbreak.
Offensive Form - While in Offensive Form, you can launch Special Attacks while maintaining the form (hold RMB (PC), RT (XB1), R2(PS4)).

Offensive Form Enhanced Light Attack - Offensive Form Lights are not interrupted when Blocked.
Offensive Form Unblockable Heavy - When in Offensive Form, release RMB (PC), RT (XB1), R2 (PS4) for an Unblockable Heavy Attack. After this attack you will return to Defensive Form if RMB (PC), RT (XB1), R2 (PS4) is not held.
Offensive Form Cancels - Offensive Form Heavy Attack can be Canceled during its start-up with Offensive Form Light Attack, Formorian Kick or Caber Toss. Formorian Kick can be Canceled during its start-up with Caber Toss.
Offensive Form Dodges - While in Offensive Form, Highlander's Dodges are altered, with forward and side Dodges becoming faster, and back Dodge becoming slightly slower.
Caber Toss - Upon taking hold of an enemy and pinning them, Highlander will toss the opponent behind him. He will throw them slightly towards the right or left if his Guard Stance were facing those directions when performing Caber Toss.
Exiting Offensive Form - Press E (PC), B (XB1), O (PS4) to return to Defensive Form. Suffering a hit will also cause you to return to Defensive Form. After an Attack in Offensive form, you return to Defensive Form if you do not keep holding RMB (PC), RT (XB1), R2 (PS4).
Zone Attack - Cancel Zone Attack after the first or second Attack with E (PC), B (XB1), O (PS4). Cannot fast flow to Offensive Form.
Sprint Attack - Cancel Sprint Attack after the first Attack with E (PC), B (XB1), O (PS4). Cannot fast flow to Offensive Form.
Celtic Curse Cancels - Cancel from Celtic Curse into a left or right heavy attack. Highlander will side step to the opposite side of the attack.

Celtic Curse Chain Starters - Celtic Curse and Celtic Curse Cancels can be used to initiate chains as a heavy attack starter.
Celtic Curse Cancel - Fast Flow - Celtic Curse can be canceled during its startup by Fast Flowing into Offensive Form.
(From Guard Mode)
| Type | Name | PC | XB1 | PS4 |
| --- | --- | --- | --- | --- |
| | Tír na nÓg (In Defensive Form) | LMB, LMB, RMB | RB, RB, RT | R1, R1, R2 |
| | Banshee's Wail (In Defensive Form) | RMB, RMB | RT, RT | R2, R2 |
| | Lowland Slashes (In Defensive Form) | LMB, RMB | RB, RT | R1, R2 |
| | Celtic Curse (In Defensive Form) | W, Space, RMB | LS↑, A, RT | LS↑, X, R2 |
| | Enter Offensive Form | Hold RMB | Hold RT | Hold R2 |
| | Balor's Might (In Offensive Form) | Release RMB | Release RT | Release R2 |
| | Caber Toss (In Offensive Form) | S, MMB | LS↓, X | LS↓, ⬜ |
| | Formorian Kick (In Offensive Form) | MMB | X | ⬜ |
| | Enhanced Light (In Offensive Form) | LMB | RB | R1 |
| | Offensive Form Emote (In Offensive Form) | F | Y | Δ |
| | Sprint Attack (Not in Guard Mode) | ↑ + RMB | LS↑ + RT | LS↑+ R2 |
Equipment
Edit
*Star weapon
**Rarity unknown
| | | |
| --- | --- | --- |
| | Armor Styles | Weapon Styles |
| | | |
| | | |
| | | |
| | | |
| | | |
Executions
Edit
| | | |
| --- | --- | --- |
| Deep Cut | Intent To Behead | No Mercy! |
| | | |
| --- | --- | --- |
| Bone Crusher | 360 Takedown | Heave-Ho! |
| | | |
| --- | --- | --- |
| Spin The Bottle | Pathetic! | Fatal Toss |
| | |
| --- | --- |
| Cruel Demise | Northern Brutality |
Passive Stance
Edit
| | | |
| --- | --- | --- |
| I Have The Power! | Insult To Injury | Air Guitar |
| | | |
| --- | --- | --- |
| Nap Time | Par 5 | Lumberjack Chop |
| | | |
| --- | --- | --- |
| Highlander Coin Toss | Kill Card (Highlander) | Recognition (Highlander) |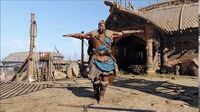 Fighting Stance
Edit
| | | |
| --- | --- | --- |
| Last Stand | Heavy Swing | Hunker Down |
| | | |
| --- | --- | --- |
| Moment Of Reflection | It's Go Time! | Oohrah! |
Community content is available under
CC-BY-SA
unless otherwise noted.