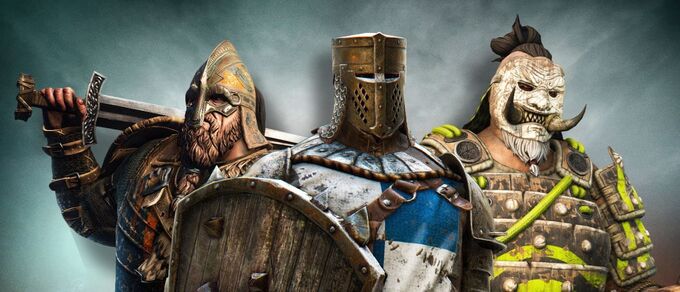 The Heavy is one of four playable types of Heroes in For Honor. Easy to identify by either their robust build or a noticeable tool of defense, these Heroes sport high resistance and defensive options.
These beefy warriors hold the highest raw survivability compared to the other three types of Heroes (the Hybrids, the Assassins, and the Vanguards), some of them notably able to deliver devastating damage in a single hit. However, because they are not as mobile, they are typically tasked with working with the team to hold positions until reinforcements arrive. A well-trained Heavy will remain patient, relying on their defensive abilities to resist incoming attacks and wait for their opportunity to strike back with slow but extremely strong blows.
Attributes
The most resilient to damage of all types. With a strong defense and a larger health pool than other Heroes, the Heavy swings slow but hard. Their seemingly sluggish nature may make them seemingly easy to predict, thus an opponent that you could take advantage of. However, enemies should still be wary of their presence on the battlefield, since their main role is to be able to take a few more hits, with some even hitting harder than other fellow Heroes.
Given these characteristics, Heavies are great picks for defensive play in Dominion, holding key points on the field. They can choose to wander to help their dueling allies, but their slow speed risks wasted time as speedier enemies capture the Zones.
Although this type of hero tends to be better-fitted for objective defense or tanking situations, they can excel in duels as well if they play with overall patience.
Heroes of the Factions
The Heavy heroes in For Honor are: