In Multiplayer, each hero has unique gear that they can equip in customization. Their armor and weapons are composed of three different pieces each, six in total. The armor is made up of the Helm, Arms, and Chest. The weapon's pieces are dependent on the hero, as not all weapons have a blade, hilt, etc.
Overview
Gear Visuals
There are many different appearances, or visuals, of gear for each hero. The visuals are completely cosmetic, and do not affect the perks of the armor/weapon piece. However, not all visuals can be found as common gear. Rare gear has new visuals that could not be found as common gear, in addition to all of the visuals that could be found as common gear. Heroic gear has new visuals that could not be found as either common or rare gear, but also has all of the visuals found as rare and common gear. Therefore, unless any new rarity of gear is discovered, all visuals can be found as heroic gear.
For example, the Kudo Hilt is a common visual for an Orochi. However, the Kudo Hilt may also be found as rare or heroic gear. The Tamura Hilt is a rare visual, but may also be found as heroic gear. The Ikaruga Hilt is a heroic visual, and so may only be found as heroic gear. However recent changes have made it so you can take any visual you've ever gotten and apply it to any rarity as long as you've acquired the visual before, so getting a common visual you can change a legendary gear to look like default should you've gotten the default gear before for said hero, however the visuals do remember the rarity you got them in and so, changing a visual to a higher rarity will have a more expensive price to it in salavage and steel.
A current theory for how many individual visuals there are for a specific hero is that they have 17 different weapon visuals and 9 different armor visuals. There are 3 sets of armor visual for each level (common, rare, heroic) and there are 6 weapon sets that start as common, 4 that start as rare, and 7 that start as heroic. This way, with a gear limit of 60 slots, a player would be able to have every visual of weapon, and the three heroic tier armor sets before reaching the limit. (17 x 3 pieces per set = 51 slots, 3 x 3 pieces per set = 9 slots, 51+9= 60 gear slots)
Star Weapons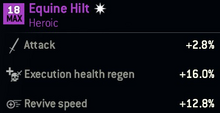 Each hero also has multiple matching sets of star weapon pieces (unofficially called Legendary gear before the announcement of the legendary rarity). They are marked by a white star to the right of their name, and can only be found for heroes starting from reputation level 3. It should be noted that their perks aren't any better than non-star visuals'.
Lists of Visuals
Knight Visuals
Viking Visuals
Samurai Visuals

*Legendary weapon