"Mala ultro adsunt. Misfortune comes uninvited. It hungers for blood, craving eternal darkness. The time to repent is over! I will take up arms again. Step out of the shadows and teach them true darkness!"

The Black Prior is a playable hero class in For Honor.
Overview
The Black Priors are heavy heroes who wield the large kite shield and an arming sword. These dark agents fight alongside the Knights but are free from the code of chivalry. Whatever victory's cost, the Black Priors will pay the price. Once Apollyon's faithful warriors, today they return from exile to fight with their leader, Vortiger, reinventing their legacy and bringing fresh chaos to the battlefield.
Armor
Comprised of leather, black steel, and cast iron. Chainmail lies beneath everything with leather above it. Plate armor covers their arms and legs. Together with all the belts they wear, the Black Prior also wear a Chainmail hood that has a steel crown on top. Under that hood, dark make up marks under their eyes.
Weapon
Arming Sword & Kite Shield - The weapon of choice of the Black Prior is the arming sword. But their iconic kite shield is where the true foundation of their technique of battle lies.
Trivia
Leaks led to the belief that the class was called the Vortiger. Further confusion was had when the Black Prior's reveal cinematic came out on January 16, 2019, titled "New Hero: Vortiger." On January 17, and January 31st, it was clarified by the developers that the class is called "The Black Prior", and that Vortiger and Erzebet are the leaders of the Black Prior order, and are not playable characters.

During one Warrior's Den session, when asked by Luc Duchaine "can you shed some light on 'Black Prior versus Vortiger?", Roman responded with, "So, the hero, that you're gonna play, is called the Black Prior. That's the heavy hero. That's the unit... And then, we have Vortiger, who is the head of the Black Priors." 
Even with these clarifications, confusion continues to stir as official websites still use "Vortiger" over "Black Prior" when referencing this hero, one being Ubisoft's own page for the Black Prior, which is titled "The Vortiger Guide - For Honor Vortiger Hero." Meanwhile, items such as weekly quests, namely, "Vortiger's Task", state that you, the player, play as a Black Prior, who must carry out Vortiger's orders. 

The name Vortiger comes from Vortigern (also known as Vortiger, Vortigan and Vortigen), a legendary warlord of Britain during the 5th century who was believed to have unintentionally aided the Angles, Saxons and the Jutes in their conquest of the British Isles when he invited them to destroy the Picts. However, the certainty of his existence is debated to this day by scholars and historians..
Black Prior also bears an interesting visual resemblance to King Vortigern from the film King Arthur: Legend of the sword. Both wear armor that consists mainly of cloth with plate on the arms, along with a hood-like helmet with a crown on top.

Erzebet is the Hungarian form of Elizabeth, and likely references Countess Elizabeth Bathory who was an infamous Hungarian noblewoman and alleged serial killer, accounting for the deaths of many women (accusations ranging from 50 up to above 500). She is often compared to Vlad the Impaler.

Priors are individuals who are the head of a house or a collection of houses under a religious order.

A likely inspiration of the Black Priors may be the Crusaders. Another point of inspiration may have been the Norman knights who most commonly used teardrop shields and swords, while being notable for being pious and well trained.

The Black Prior is the first Hero to not have their ornament on the head of the Hero. It is instead placed on the Black Prior's shoulder plates. All Year 4 Heroes would proceed to have this same arrangement for their ornament.
The Black Prior features a unique Zone Attack, one that does not deal any form of health damage. Instead, it functions like a Bash move, knocking back targets and draining their stamina.

Gladiator is the first Hero to feature a Zone Attack that includes a Bash in it, although it also has Gladiator swing a second time for a health damaging attack.

Although Ubisoft's For Honor's official website refers to Black Priors sword as a "Longsword," it is unmistakably an arming sword. It can even be argued to be a bastard sword, as a bastard sword is longer than an arming sword but shorter than a longsword. However, the Black Prior's sword is too short to be an actual Longsword.
Translations
The Latin saying from the reveal cinematic, "Mala ultro adsunt", means the same as the line said following the saying in the cinematic: "Misfortune comes uninvited."

This saying was the motto of German Emperor Sigmund of Luxembourg who ruled during the early 1400s.
This motto is also the name of one of Black Prior's purchasable Executions.

The spoken quote for the move Hawk's Charge, "Sindon cadit!" possibly refers to how even the best cloth decays overtime. In the sense of combat, even the best warriors can falter or lose their touch.
One of the free roam emotes, "Stulti, Stolidi, Fatui..." is a set of words which means "fools" or "stupid (people)" while using synonymous but different Latin words.
The battle emote "Veni" translates to "Come (at me)."
The signature "Conditorium" is a word synonymous to "repository" or "tomb."
The signature "Felix Culpa" translates to "happy fault" or "blessed fall."
The execution "Malo Undique Clades" translates to "disaster awaits the wicked everywhere," and is a quote from "Devises Heroiques," a book of emblems published by Claude Paradin.
Quotes
Latin: "Tenebris!"- English: "For Darkness!"
Latin: "Ad profundis!" - English: "Into the abyss!"

Bulwark Counter or Up to the Hilt Execution

Latin: "Tace cor tuum!" - English: "Silence your heart!"
Latin: "Sindon cadit!" - English: "Fine linen decays!"
References
Fighting Style
The Black Priors are protectors of the battlefield. Masters of the sword and shield, their powerful defense is their offense. They can enter their special Bulwark Stance after blocking incoming attacks or after any strike, with their Bulwark Counter negating any attack as they flip their foe over their shield.
Difficulty: Easy-Medium
Defense Specialist
Strong Support Abilities
Special Capabilities
Bulwark Stance that can be used to cancel attack/block recoveries and access Bulwark Slash and Bulwark Counter
Bulwark Slash is a wide Unblockable sweeping attack, while Bulwark Counter negates all incoming attacks for a counter-attack
Crushing Counter Light Openers and Undodgeable Heavy Finishers gives tools for the Black Prior to fight with
Perks
Available Perks for the Black Prior can be viewed on the Perks page.
Feats
Tier
1st
2nd
3rd
1
Sinister Shield

Grant a shield to your ally by inflicting some damage to yourself.

Unlocked at level 1

Iron Lungs

Passive | You can still Sprint when Out of Stamina

Unlocked at level 5

Speed Revive

Passive | Rapidly revive fallen teammates

Unlocked at level 13

2
Healing Ward

Passive | Slowly regain health while in Bulwark Stance

Unlocked at level 1

Doom Banner

Nearby enemies have less powerful attack and defense.

Unlocked at level 7

Inspire

Nearby allies deal more Damage, and soldiers fight faster.

Unlocked at level 15

3
Oath Breaker

Remove all shields from target and temporarily prevent them from gaining any more shield

Unlocked at level 1

Punch Through

Passive | Deal Damage on Blocked Attacks

Unlocked at level 9

Tough as NailsPassive | Raises max Health when unlocked. Unlocked at level 17

4
Umbral Shelter

For a short time, generate shields for you and a nearby ally. Shields don't stack.

Unlocked at level 1

Regenerate

Passive | Regenerate your Health when out of combat

Unlocked at level 11

Morale Booster

Improve the attacks of nearby allies for a short duration.

Unlocked at level 19
Moveset
General
Renown: Heavy - Earn more Renown by assisting or saving Heroes, and holding objectives to unlock your feats in a match.
Revenge Mode - Boosts Damage and Health. All Attacks are Uninterruptible. Parry and Throws knock enemies down. Attacks are Auto-Parried on activation.
Defense: Static - Your Guard Stance remains active in the direction you designate. Unlike most other Static Guard Heroes, Black Prior also has Normal Block Dodges.
Hero Specific
Superior Block Attacks- Tenebris Thrust and Light Attack Openers have Crushing Counterstrike properties (Superior Block, plus Unblockable and enhanced damage when successful).
Undodgeable Heavy Finishers - Heavy Finishers can't be dodged.
Chain Starter- Horizon Spin, Tenebris Thrust, and Bulwark Slash are chain starters. Tenebris Rising and Hawk's Charge are chain starters only if they hit an opponent.
Light Chain to Tenebris Rising - Press Guardbreak after a Light Opener to chain into Tenebris Rising.

Hawk's Charge - Press Guardbreak during the start up of a Heavy Opener to perform a shield bash in the form of Hawk's Charge.

Bulwark Stance - In this stance, you gain new Attacks and Regular Block in all directions. You can move while in this Stance, but you can't Guardbreak nor Counter-Guardbreak. Unlike other forms of Charged moves or Mobile Full Block stances, Black Prior's movement is not slowed. Instead their walk speed is slightly faster.

Fast Flow Recovery Cancel - Fast Flow into Bulwark Stance after using any normal chain attack by holding C or RS during their recovery.
Fast Flow after Block - Hold (C, RS) while successfully blocking an incoming attack to Fast Flow into Bulwark Stance.

Bulwark Slash Cancel - Bulwark Slash can be canceled during its startup by pressing B (XB1), E key (PC) or the circle (PS4).
Bulwark Counter - Bulwark Counter is a defensive move that requires timing. If successful, it negates the opponent's Attack or Unblockable move when successful, leading to Black Prior to throw the target over behind with their shield. If multiple enemies attack Black Prior during the initial throwing maneuver, they too will be thrown over. Black Prior is completely immune to damage while throwing enemies.

Bulwark Counter Sweep - After throwing all countered foes over their shield, Black Prior will automatically perform an Unblockable Sweep Attack around them with their sword to deal damage to all nearby Units, focusing on whoever they had countered.
Bulwark Counter Exceptions - Although Bulwark Counter works with even bash attacks and pins, it will not work on normal Guardbreaks.

Normal Block Dodges - Forward, Left, and Right Dodges have Normal Block properties in the direction of the Dodge.
Moves
(From Guard Mode)
| Type | Name | PC | XB1 | PS4 |
| --- | --- | --- | --- | --- |
| | Harsh Requiem | LMB or RMB, LMB or RMB | RB or RT, RB or RT | R1 or R2, R1 or R2 |
| | Horizon Spin | LMB + RMB | RB + RT | R1 + R2 |
| | Tenebris Thrust | W + Space, RMB | LS + A, RT | LS + X, R2 |
| | Tenebris Rising | W + Space, MMB | LS + A, X | LS + X, ⬜ |
| | Hawk's Charge (Only during Heavy Opener Start up) | During RMB, MMB | During RT, X | During R2, ⬜ |
| | Sprint Attack (Not in Guard Mode) | ↑ + RMB | LS↓ + RT | LS↓ + R2 |
| | Bulwark Stance | C | RS ↓ | RS ↓ |
| | Bulwark Slash (In Bulwark Stance) | RMB | RT | R2 |
| | Bulwark Counter (In Bulwark Stance) | LMB | RB | R1 |
Equipment
*Star Weapon
**Rarity unknown
Armor Styles
Weapon Styles

Loyalist

Defiant Baroness
Executions
| | | |
| --- | --- | --- |
| Requiescat In Pace | Rampage Of Ragnarok | Cheaty Flute |
| | | |
| --- | --- | --- |
| Blow Your Own Horn | Harpy Hey Joe | Lute Not |
| | | |
| --- | --- | --- |
| Sylvan Vaporization | Horkos Pharmakos | Sylvan Metamorphasis |
| | | |
| --- | --- | --- |
| Revenant Slayer | Ulfhednar Killer | Shiryo Avenger |
| | | |
| --- | --- | --- |
| Jiangshi Banisher | Minified And Put Aside | Minified And Magnified |
| | | |
| --- | --- | --- |
| Minified And Stomped | Minified And Kicked Away | Wolf Among Sheep |
| | | |
| --- | --- | --- |
| Ilma's Scythe | Cane You Feel It | Brought You A Gift |
| | | |
| --- | --- | --- |
| Chimera Salvation | Blades of the Vanguards | Resounding Defeat |
| | | |
| --- | --- | --- |
| Deadly Hare | Sylvan Detachment | To The Great Beyond |
| | | |
| --- | --- | --- |
| Feast Upon The Weak | The Masquerade Is Over | Unquenchable Wolf |
| | | |
| --- | --- | --- |
| Farewell, Chimera Music Box | Farewell, Chimera Zither | Farewell, Horkos Bagpipe |
| | | |
| --- | --- | --- |
| Farewell, Horkos Violin | Wrathful Concision | Willful Concision |
| | | |
| --- | --- | --- |
| Sorrowful Concision | Artful Concision | Aegir's Reach |
| | | |
| --- | --- | --- |
| Anchors Down | Chill Out | Death Metal Triangle |
| | | |
| --- | --- | --- |
| Fish In A Barrel | Get Whale Soon | Off The Hook |
| | | |
| --- | --- | --- |
| The Huntress' Prey | Ran's Bestowment | What Goes Around |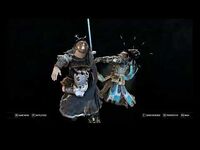 Emotes
Passive Stance
| | | |
| --- | --- | --- |
| The Bard's Instrument | Sword In The Stone | Ready To Rumble |
| | | |
| --- | --- | --- |
| Volcanic Destruction Blast | Jack O Lantern | Leap Of Faith |
| | | |
| --- | --- | --- |
| Penguin Walk | Vortiger's Ascent | Shadows of the Hitokiri |
| | | |
| --- | --- | --- |
| Zhanhu's Fire | Dubious Assessment | One Of Your Shrugs |
| | | |
| --- | --- | --- |
| Howl At The Moon | Confused Warrior | Skeptically Swaying |
| | | | |
| --- | --- | --- | --- |
| Horkos Grimoire | Sylvan Book | Sylvan Meditation | |
| | | |
| --- | --- | --- |
| In ChaRAHcter | Muscular Archer | Muscular Biceps |
| | | |
| --- | --- | --- |
| Message Board | Sylvan Panacea | Selfish Drinker |
| | | |
| --- | --- | --- |
| Chimera Bagpipe | Chimera Music Box | Chimera Violin |
| | | |
| --- | --- | --- |
| Chimera Zither | Horkos Bagpipe | Horkos Music Box |
| | | |
| --- | --- | --- |
| Horkos Violin | Horkos Zither | Odaiko |
| | | |
| --- | --- | --- |
| Raising Glasses | Suspended Gong | The Bodhran |
| | | |
| --- | --- | --- |
| The Field Drum | Suspicious Tumbleweed | Elegant Dance |
| | |
| --- | --- |
| The Bard's Triangle | Gryphon's Fireside |
Fighting Stance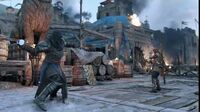 Executions
| | | |
| --- | --- | --- |
| Clarent | Benedicto Militis | Death By Catapult |
Emotes
Passive Stance
| | | |
| --- | --- | --- |
| Down The Hatch! (Knight) | Rub Salt In The Wound (Knight) | Banner Of Arms (Knight) |
Media
Images
Model
Stills
Videos
External links
References