For Honor Season 4 – Aramusha Gameplay - The Rogue Samurai Trailer
Play Sound
"Some must fall from grace. But when Samurai fall, they also free themselves from their masters. Aramusha: brash enforcers for the most prestigious houses. Once noble fighters, now mercenaries. Their dual katana may have killed to satisfy their own ego, but those crimes belong to the past. They join this war not out of duty or command. They join because they are elite warriors in search of their own destiny, a destiny stained red with the blood of those in their way."

Aramusha are a playable hero in For Honor.
Overview
The Aramusha is a Samurai fallen from grace. They are not silent nor elegant but they move with the precision of a predatory cat and waste no movements. Their dual blades make short work of any who stand before them.
The Aramusha and Shinobi are members of the same secret order though their roles are vastly different. Where the Shinobi are the silent assassin, the Aramusha are the brash enforcers or sometimes the bodyguards for the more powerful Samurai houses. They once fought for an honorable cause... but circumstances, be it betrayal, greed, ego or others, have pushed them to abandon their oaths.
There is no air of mystery about them. They are simply elite warriors who wield dual katana with deadly grace. The Samurai have called on one of their most ruthless weapons and they are about to be unleashed on the battlefield.
Armor
No longer wearing body armor, the Aramusha wear Shitagi shirts with Hakama pants tied off at the end by greaves. They wear a worn down straw Kasa as a pair of Wakizashi hang on the left side of their waist.
Weapon
Dual Katana - The katana is the archetypal single-edge curved sword of the samurai of the Dawn Empire. Some are honored family heirlooms and others are taken off dead bodies. For the Aramusha, they wield a set of such swords, using them in the infamous dual-blade style that only few can master.
Trivia
Aramusha (荒武者) roughly means "Rough/Wild Warrior." As warriors who have fallen from grace and have no more masters, they reference the Ronin (浪人; lit. "unrestrained man"; trans. "wanderer"), samurai who were without a lord or master.

Although Ronin became masterless as a result of some terrible act (or the death/fall of the master), it was usually the lord or master who had caused the disgraceful act, not the Ronin.

However, it was not uncommon for the master to take the responsibility for the wrongdoing done by the samurai who serves them.

Like Aramusha, the Ronin often end up as criminals or mercenaries due to their dishonourable background preventing them from taking up a new trade.
The "荒" part of their name could refer to their fighting style that is a bit more brash, but still as graceful, as the other sword-wielding samurai.
Leaks revealed that the Aramusha was originally called the Ronin. Occasionally, members of the development team will also refer to the Aramusha by that title as a sign of the development name.
It is historically accurate that the Aramusha would belong to the Shinobi Clans, as ninja were at times samurai or ronin who took up espionage duty for a lord.

The Aramusha's dual wielding style is likely inspired from the Niten Ichi-ryū (二天一流; lit. "two-heavens-as-one school"), the only Nitō-ryū (二刀流; lit. "two sword school") swordsmanship prominent in Japan. The style was developed by Miyamoto Musashi, where the wielder would wield a set consisting of a long sword (the katana) and a short sword (the wakizashi). The use of two long swords was also practiced, though not as common.

Miyamoto Mushashi was also a Ronin at one point.
The Nitō-ryū style of fighting continues today both in Kenjutsu and Kendō, where the latter of which can be seen at tournaments at times, although bound by specific rules compared to the more typical Ittōryū (一刀流; lit. "one sword school").
The name of the Niten Ichi-ryū swordsmanship is referenced in one of Aramusha's Signatures.

The Aramusha features tattoos in some of his armour choices. This may be a reflection of the taboo culture of tattoos in Japan and the criminality related to said tattoos. For wanderers, the tattoos though could hold spiritual meaning.
Aramusha currently is the only Hero who loses his headwear when killed, revealing his face. All other Heroes have static heads.
Emotes & Executions
The emote "Rōnin Mawashi" (浪人回し) translates to "the wanderer's whirl."
The emote "Dowsing Rod" makes a reference to the divination method of dowsing. Dowsing used a rod or rods to find water or metals without the use of scientific equipment.

Aramusha points his katana forward, having their tips touch to make them appear like a Y-rod (possibly dowsing towards their opponent).

The emote "Omedetai" (おめでたい) translates to "celebratory."
The emote "The Maniac" may be a reference to the movie "Flashdance" and a dance move performed in it that is akin to the one Aramusha performs.
The Execution "Mulberry Field" is a reference to the Japanese Phrase "Kuwabara Kuwabara" (桑原桑原; lit. "mulberry field, mulberry field") which is used to ward off lightning. This may originate from a Chinese legend that mulberry trees do not get struck by lightning. Japanese Mythology also points to how the land of Kuwabara has remained unharmed by lightning as the land is home to Michizune, a god of Lightning.

The phrase is also analogous to the English phrase "Knock on wood" for warding away bad luck.

The Execution "Rebel Just for Kicks" is a reference to the song "Feel It Still" by Portugal The Man, where one of its signature line of lyrics is "I'm a rebel just for kicks now."
The Execution "Sayuri" (小百合) references the orange lily, which in Japanese flower language (花言葉; hanakotoba; lit. "flower language") means "hatred" or "revenge."
The Signature "Stilt Walker" is likely a reference to Jean-Claude Van Damme, a Belgian actor and retired martial artist known for performing splits-based stunts. This is most apparent in how the Aramusha starts on top of his swords with arms crossed, only to lower his body down into a split, which Van Damme often does for his stunts such as here.
"Ryuusei no Uchi" (流水の打) translates to "Flowing Water Strike."

The name of this execution is in reference to a technique from Miyamoto Musashi's Book of Five Rings where, when faced with an opponent who is at equal strength as oneself, become graceful but powerful as a flowing river.
Quotes
Japanese: 喰らえ (Kurae) - English: "Eat this!" or "Take this!"
Japanese: ぬるい (Nurui) - English: "Too weak!"
Japanese: 甘い (Amai) - English: "Naive!"
Japanese: 詰まらん (Tsumaran) - English: "Tasteless!"

Fury Unleashed or Twin Vipers
Fighting Style
The Aramusha use their blades for both offense and defense. They can move very carefully or dodge very quickly on the battlefield. They capitalize on the mistakes of their opponents to unleash a never-ending flow of fast attacks in every direction.
Difficulty: Hard
Counter Attacker
Infinite Chain Harasser
Special Capabilities
Infinite chains as long as they switch which side they attack from
Blade Blockade ability that provides an assortment of powerful counter-attack moves
Dangerous soft-feints that allows Aramusha to catch opponents off guard
Perks
Available Perks for the Aramusha can be viewed on the Perks page.
Feats
Tier
1st
2nd
3rd
1
Iron Lungs

Passive | You can still Sprint when Out of Stamina

Unlocked at level 1

Body Count

Passive | Killing a soldier grants you health and stamina.

Unlocked at level 5

Deadly

Passive | Attacks deal more Damage

Unlocked at level 13

2
Smoke Bomb

Throw down a bomb that stuns enemies for a moderate duration of time.

Unlocked at level 1

Juggernaut

You're slowed and gain high Damage reduction

Unlocked at level 7

Short Tempered

Passive | Upon being hit by an enemy Hero, deal increased damage for a short time.

Unlocked at level 15

3
Second Wind

Recover some of your health.

Unlocked at level 1

Sharpen Bladed

Attacks inflict low Damage over time.

Unlocked at level 9

Long Bow

Fire a long bow for moderate Damage (85 dmg)

Unlocked at level 17

4
Arrow Storm

Aerial Attack that deals medium Damage in multiple areas

Unlocked at level 1

Stalwart Banner

Nearby allies continuously regain health.

Unlocked at level 11

Fear Itself

Enemies around you have lower Stamina regeneration and defenses

Unlocked at level 19
Moveset
General
Renown: Hybrid - Renown is balanced across activities.
Revenge Mode - Boosts Damage and Health. All Attacks are Uninterruptible. Parry and Throws knock enemies down. Attacks are Auto-Parried on activation.
Defense: Static - Your Guard Stance remains active in the direction you designate, even when performing a Dodge.
Hero Specific
Blade Blockade - Press C (PC) or RS↓ (XB, PS4) to gain a Full Block Stance briefly. Successfully blocking allows Aramusha to counterattack with some special moves.

Recoveries into Blade Blockade - Blade Blockade can be accessed during the recovery of any attack (except Fury Unleashed), whether if it hits, misses or is blocked.
Hitstun into Blade Blockade - Aramusha is uniquely able to cancel hitstuns with Blade Blockade. This allows Aramusha the ability to Blade Blockade Chain Lights after even a landed Heavy attack.
Blade Blockade Counterattack - All counterattack moves from Blade Blockade are guaranteed, while also being Uninterruptible and Unblockable. Fury Unleashed is also Undodgeable while Twin Vipers has a wider hitbox.
Blade Blockade into Dodge - Instead of performing a counterattack, Aramusha can cancel the recovery of a successful Blade Blockade with a Dodge.

Chain Finishers - Chains can be finished with a strong final strike by performing a Heavy Attack with RT (XB1), RMB (PC), R2 (PS4) in the same direction the last strike was performed from. Attack from top if the previous attack was in Top Stance, and attack from the side if the previous strike was in a Side Stance.
Swift Reprisal - Fury Unleashed, Twin Vipers, Front & Side Rushing Wind and Ring the Bell are considered as Heavy Chain Openers.
Deadly Feint - You can cancel your Heavy Finisher with a Light Attack in a different direction. Deadly Feints count as Chain Lights.
Rushing Wind Cancel - Front Rushing Wind can be canceled with B (XB1), E (PC) and O (PS4).

Ring the Bell Soft-Feint - Heavy Openers and Front Rushing Wind can be canceled during their start-up with GB (PC), X (XB1) or 🔲 (PS4) to cancel into Ring the Bell. Ring the Bell is a pinning move that will deal health damage.

Zone Attack - The second strike of Zone Attack is Unblockable, and can be feinted.
Befuddle - A missed sprint attack can be followed up with another sprint attack from the other side.
Moves
(From Guard Mode)
| Type | Name | PC | XB1 | PS4 |
| --- | --- | --- | --- | --- |
| | Tempest | LMB or RMB (not the same side consecutively) | RB or RT (not the same side consecutively) | R1 or R2 (not the same side consecutively) |
| | Front Rushing Wind | W + Space, RMB | LS↑ + A, RT | LS↑ + X, R2 |
| | Side Rushing Wind | A or D + Space, RMB | LS← or LS→ + A, RT | LS← or LS→ + X, R2 |
| | Blade Blockade | C | RS ↓ | RS ↓ |
| | Fury Unleashed | C, , LMB | RS↓, , RB | RS↓, , R1 |
| | Twin Vipers | C, , RMB | RS↓, , RT | RS↓, , R2 |
| | Push Back Kick | C, , MMB | RS↓, , X | RS↓, , ⬜ |
| | Sprint Attack (Not in Guard Mode) | ↑ + RMB | RS↑ + RT | RS↑ + R2 |
Equipment
*Star weapon
**Unknown Rarity
| | | |
| --- | --- | --- |
| | Armor Styles | Weapon Styles |
| | | |
| | | |
| | | |
| | | |
| | | |
| | | |
| | | |
Executions
| | | |
| --- | --- | --- |
| Requiescat In Pace | Rampage Of Ragnarok | Cheaty Flute |
| | | |
| --- | --- | --- |
| Blow Your Own Horn | Harpy Hey Joe | Lute Not |
| | | |
| --- | --- | --- |
| Sylvan Vaporization | Horkos Pharmakos | Sylvan Metamorphasis |
| | | |
| --- | --- | --- |
| Revenant Slayer | Ulfhednar Killer | Shiryo Avenger |
| | | |
| --- | --- | --- |
| Jiangshi Banisher | Minified And Put Aside | Minified And Magnified |
| | | |
| --- | --- | --- |
| Minified And Stomped | Minified And Kicked Away | Wolf Among Sheep |
| | | |
| --- | --- | --- |
| Ilma's Scythe | Cane You Feel It | Brought You A Gift |
| | | |
| --- | --- | --- |
| Chimera Salvation | Blades of the Vanguards | Resounding Defeat |
| | | |
| --- | --- | --- |
| Deadly Hare | Sylvan Detachment | To The Great Beyond |
| | | |
| --- | --- | --- |
| Feast Upon The Weak | The Masquerade Is Over | Unquenchable Wolf |
| | | |
| --- | --- | --- |
| Farewell, Chimera Music Box | Farewell, Chimera Zither | Farewell, Horkos Bagpipe |
| | | |
| --- | --- | --- |
| Farewell, Horkos Violin | Wrathful Concision | Willful Concision |
| | | |
| --- | --- | --- |
| Sorrowful Concision | Artful Concision | Aegir's Reach |
| | | |
| --- | --- | --- |
| Anchors Down | Chill Out | Death Metal Triangle |
| | | |
| --- | --- | --- |
| Fish In A Barrel | Get Whale Soon | Off The Hook |
| | | |
| --- | --- | --- |
| The Huntress' Prey | Ran's Bestowment | What Goes Around |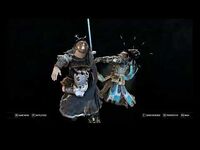 Emotes
Passive Stance
| | | |
| --- | --- | --- |
| The Bard's Instrument | Sword In The Stone | Ready To Rumble |
| | | |
| --- | --- | --- |
| Volcanic Destruction Blast | Jack O Lantern | Leap Of Faith |
| | | |
| --- | --- | --- |
| Penguin Walk | Vortiger's Ascent | Shadows of the Hitokiri |
| | | |
| --- | --- | --- |
| Zhanhu's Fire | Dubious Assessment | One Of Your Shrugs |
| | | |
| --- | --- | --- |
| Howl At The Moon | Confused Warrior | Skeptically Swaying |
| | | | |
| --- | --- | --- | --- |
| Horkos Grimoire | Sylvan Book | Sylvan Meditation | |
| | | |
| --- | --- | --- |
| In ChaRAHcter | Muscular Archer | Muscular Biceps |
| | | |
| --- | --- | --- |
| Message Board | Sylvan Panacea | Selfish Drinker |
| | | |
| --- | --- | --- |
| Chimera Bagpipe | Chimera Music Box | Chimera Violin |
| | | |
| --- | --- | --- |
| Chimera Zither | Horkos Bagpipe | Horkos Music Box |
| | | |
| --- | --- | --- |
| Horkos Violin | Horkos Zither | Odaiko |
| | | |
| --- | --- | --- |
| Raising Glasses | Suspended Gong | The Bodhran |
| | | |
| --- | --- | --- |
| The Field Drum | Suspicious Tumbleweed | Elegant Dance |
| | |
| --- | --- |
| The Bard's Triangle | Gryphon's Fireside |
Fighting Stance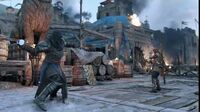 Executions
| | | |
| --- | --- | --- |
| Futsunomitama | Ware Shinaba | Death By Arrows |
Emotes
Passive Stance
| | | |
| --- | --- | --- |
| Down The Hatch! (Samurai) | Rub Salt In The Wound (Samurai) | Banner Of Arms (Samurai) |
Media
Images
Armor
Stills
Videos